Plumbago wissii Friedrich
Family: Plumbaginaceae
Common names: Brandberg plumbago
Introduction
Plumbago wissii is a rare endemic of the Brandberg in northern Namibia. It is an attractive shrub growing to about 1.5 m in diameter and to about 60-80 mm high, bearing linear, slightly glaucous green leaves and stems, and violet to purple flowers. It grows surprisingly well at the Cape.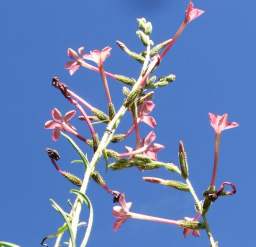 Description
Description
Plumbago wissii is a spreading, multi-stemmed shrub, 60-80 mm high. It has underground stolons but ascending aerial branches. The branches are woody at the base and distinctly ribbed (up to seven ribs), becoming purplish. The young branches are glaucous green and up to 3 mm in diameter; internodes 10-25 mm apart. The leaves are narrow, linear to linear-oblanceolate, 40-80 x 1-4 mm, slightly fleshy, the margin entire to slightly wavy.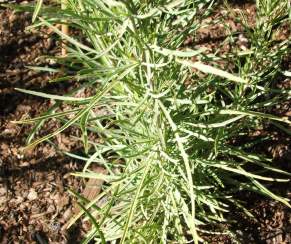 The inflorescence consists of a terminal raceme (80-)150-330 mm long, sometimes with 2 shorter side branches from the base, forming a loose panicle. All parts are covered with glandular-hairs. The calyx is green, 5-lobed, tubular, 6-7 x 2.5 mm. The short-stalked flowers (1 mm) are alternately arranged, about 40 mm apart. The flower (corolla) is violet to maroon-purple, open during the day, 13-14 mm in diameter when fully opened, with a slender, pale maroon tube, 173-25 x 1 mm. The stamens are 24 mm long, the filaments white with black anthers, and cream-coloured pollen.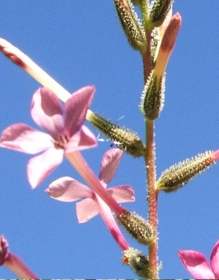 The greenish ovary is 5-lobed, egg-shaped, 2 x 1 mm, bearing the style, 12-23 mm long. The fruiting capsule is membranaceous. Flowering time: almost throughout the year but mainly in summer with a peak during April.
Conservation Status
Status
Although Plumbago wissii is a rare endemic of the Brandberg, Namibia, it is fairly common and not a threatened species. The Brandberg falls within a protected zone. Fortunately P. wissii is easily propagated (ex situ conservation).
Distribution and habitat
Distribution description
Plumbago wissii grows among granite boulders and rocks and is only known from the top of the Brandberg, a granite massif in northern Nambia about 70 km from the Namib coast. The oval granite dome is about 30 x 23 km. It highest peak is 2585 m and it is surrounded by the Namib desert (north of the tropic of Capricorn). The Brandberg plateau (about 2000 m) has a sclerophyllous vegetation and a high proportion of endemism.
Derivation of name and historical aspects
History
Plumbago wissii was discovered in 1955 by a Namibian farmer and naturalist, Mr Hans-Joachim Wiss (1903-1991) whilst working on the Brandberg (Nordenstam 1974). He had an interest in archaeology. He collected ( the type specimen, Wiss 1425, on Konigstein, the highest peak on the Brandberg. The plant was named by Friedrich in 1957. The genus Plumbago was named by Linnaeus in 1753. Plumbum means lead in Latin, and according to Pliny, the European species known as leadwort, was used as a cure for 'lead disease' or poisoning (Johnson & Smith 1931).
The genus Plumbago consists of about 12 species that have a world-wide distribution but are more common in the tropics. There are five species indigenous to South Africa and Namibia of which P. auriculata is the best known and is today cultivated throughout the world in mild climates. The other indigenous species include P. zeylanica, P. tristis and P. pearsonii. The latter, also a shrubby species from Namibia, is named after the first director of Kirstenbosch National Botanical Gardens, Professor Harold Pearson.
Ecology
Ecology
Plumbago wissii is endemic to the Brandberg with typical Namib vegetation such as Welwitschia mirabilis, Aloe asperifolia and Commiphora saxicola. It grows at an altitude from about 200-2500 m in short, shrubby, sclerophyllous vegetation, not unlike that of the Renosterveld of the Khamiesberg (Namaqualand), Northern Cape. The climate is hot during the day but cool at night. Rainfall on top of the Brandberg is mainly during summer and autumn, averaging about 200-300 mm per annum, but fog is sometimes experienced at other times. Fires are occasionally experienced and the vegetation is well adapted to this occurrence. The stoloniferous nature of P. wissii ensures that the plant resprouts after a fire. It is pollinated by insects. The fruiting capsules are sticky due to glandular hairs, and cling to the hides of antelope and other mammals, dispersing the seed. The narrow leaves and glaucous colour of the stems and leaves are an adaptation to very sunny conditions and aridity.
Uses
Use
It is a useful horticultural subject for dry, Mediterranean-type gardens. It thrives in the Mediterranean climate of the Western Cape and flowers well.
Growing Plumbago wissii
Grow
Plumbago wissii is easily propagated from soft tip cuttings or semi-hardwood cuttings. These are best rooted in a mixture of peat, sand and polystyrene placed in a mist bed. The best time is during spring or summer. Cuttings root within three weeks and are best planted out in small containers until well rooted and then transferred to larger containers or planted in the garden.
The plant thrives in cultivation especially on slightly acid, granitic soils. Flowering in cultivation is almost throughout the year but with a peak during autumn. It grows relatively fast, and is a long-lived, perennial shrub. When the plant becomes untidy it can be pruned back during winter or at the beginning of spring.
Seed should be sown during spring or summer in sandy, slightly acidic, well-drained soil. The seedlings grow quickly. Growth performance can be enhanced by using a liquid organic fertilizer.
References
Craven, P. & Craven, D. 2000. The flora of the Brandberg, Namibia . Cimbebasia Memoir 9: 49-67.
Friedrich, H.-C. 1957. Plumbago wissii , n. sp. (Dicot., Plumbaginaceae), ein charakteristischer Strauch der hochsten Gipfel des Brandberges in Südwestafrika. Senckenbergiana Biologica 38,5/6: 417-419.
Germishuizen, G. & Meyer, N.L. (eds). 2003. Plants of southern Africa : an annotated checklist. Strelitzia 14. National Botanical Institute, Pretoria .
Johnson, A.T. & Smith, H.A. 1931. Plant names simplified, their pronunctiation, derivation and meaning . Landsmans Bookshop, Herefordshire.
Nordenstam, B. 1974. The flora of the Brandberg. Dinteria 11: 3-67.
Credits
Ernst van Jaarsveld
Kirstenbosch National Botanical Garden
June 2006
Plant Attributes:
Plant Type: Shrub
SA Distribution:
Soil type: Sandy, Loam
Flowering season: Late Summer, Autumn
PH: Acid, Neutral
Flower colour: Mauve/Lilac
Aspect: Full Sun
Gardening skill: Easy
Special Features:
Drought resistant
Horticultural zones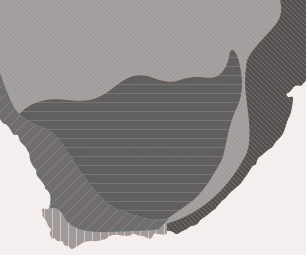 Zone 2 Coastal winter rainfall, frost free
Zone 3 Winter rainfall Karoo, light frost
Zone 4 Summer rainfall Karoo and Highveld, Frost in winter
Google QR Code Generator