Plumbago zeylanica L.
Family: Plumbaginaceae
Common names: wild white leadwort, Ceylon plumbago (Eng.); swartwaterbossie (Afr.)
Introduction
Plumbago zeylanica is a gorgeous, eye-catching shrub that adds intrigue into any garden; it is covered with pretty trusses of small white or rarely pale blue, very slightly scented, phlox-like flowers almost all year round. Not as common as P. auriculata, but if given a spot in the garden P. zeylanica will look amazing cascading down a raised flower bed or in retaining blocks, in semi-shade or sun.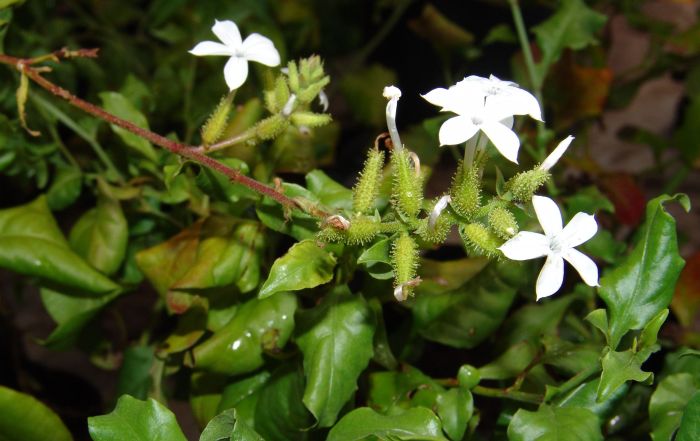 Description
Description
Plumbago zeylanica is an evergreen, scrambling, multi-stemmed shrub, about 1.5 m tall, with slender branches that are climbing, prostrate or erect, which can grow up to 1.5 or even 2 m long. The leaves are about 50 × 30 mm, pale green above and greyish underneath, arranged alternately on the stems.
The inflorescence is an elongated raceme, borne terminally at the tips of the stems, with small, delicate, white or rarely light blue, faintly scented, star-shaped flowers, 15 mm in diameter. The flowers have 5 petals, 5 stamens, and 5 sepals. The bases of the petals are fused together into a 25 mm long, slender tube, with the tips of the 5 petal free.
The calyx feels sticky because it is covered with long, gland-tipped hairs. It flowers nearly all year round with a strong flush in summer. Membranaceus seed capsules are 7.5–8.0 mm long, containing reddish brown to dark brown seeds.
Conservation Status
Status
According to the Red List of South African plants, Plumbago zeylanica is a naturalised exotic and its threat status has not been evaluated. Because of its vast distribution range and hardy nature, it is unlikely to be threatened with extinction.
Distribution and habitat
Distribution description
Plumbago zeylanica is usually found near deciduous woodland, in scrub and grassland, as well as near termite mounds, lakes and river margins. It is distributed in the north of South Africa, in the KwaZulu-Natal, Gauteng, Free State, Mpumalanga and Limpopo Provinces. P. zeylanica is commonly found throughout the tropics and subtropics of the world.
Derivation of name and historical aspects
History
The generic name is derived from the Latin words plumbum, meaning 'lead', as this plant was reputed to cure lead poisoning and eye disease, and agere, meaning 'to resemble'. The specific epithet zeylanica means 'from Sri Lanka' which was formerly called Ceylon. Plumbago zeylanica is known as Chitrak in India, where it has numerous traditional and potent medicinal uses.
The Plumbago family, Plumbaginaceae, is a medium-sized family of herbs, shrubs and climbers distributed worldwide and consisting of ± 27 genera and ± 650 cosmopolitan species. In southern Africa, there are 4 genera: Afrolimon, Limonium, Dyerophytum and Plumbago, and 27 species. The genus Plumbago comprises ± 24 species in total, all from the warmer regions of the world, 5 of which occur in southern Africa. Those covered in this series so far include P. auriculata and P. wissii.
Ecology
Ecology
The seed capsules of Plumbago zeylanica retain their stickiness, which helps with seed dispersal by 'catching a ride' from passing animals. When dry, the top of the seed capsule splits open and releases the seeds.
Plumbago zeylanica is pollinated by insects and it is a food plant for the larva of the following butterflies: Cassius Blue (Leptotes cassius), Marine Blue (L. marina), and Zebra Blue (L. plinius). Insectivorous birds are then also attracted to the bushes.
Uses
Use
Plumbago zeylanica and P. auriculata are both used medicinally for quite a few ailments. The root powder can be used to treat piles and diarrhoea. The main chemical compound, plumbagin, helps to boost immunity and it also helps to reduce inflammation. Plumbagos are also used traditionally to treat warts, broken bones and wounds, as snuff for headaches and as emetics to dispel bad dreams. A stick of the plant is placed in the thatch of huts to ward off lightning.
The flowers are edible and can be used to prettily decorate salads, cakes or cupcakes, and cool drinks.
Ornamentally this plant makes for a useful groundcover, cascading plant and some gardeners have even used it as a climber.
Growing Plumbago zeylanica
Grow
Plumbago zeylanica is not as well-known as the more commonly available and robust P. auriculata, but is a lovely, more horizontal version that tolerates far more shade and manages to thrive under trees, and in other difficult areas in the garden, such as retaining walls, pavements and embankment slopes. Wind resistant and drought hardy, although it will thrive with regular applications of compost mulch and a bit more water. It grows relatively fast, and is a long-lived, perennial shrub that will also do well and flower best in full sun to lightly dappled shade.
Plumbagos can be propagated from seed, cuttings and suckers. 
Plumbago zeylanica is easily propagated from seed. Sow seed in spring in seedling trays. Use a seedling growth medium mix which is finely textured and well drained. Cover the seeds lightly with the growth medium. Do not allow the tray to dry out. The seeds take about 3–4 weeks to germinate and if both ends of the seeds are nipped off before sowing, germination can be improved to almost 100%. 
The easiest method of propagation is to remove rooted suckers from the mother plant, pin the elongated stems into the ground as they grow along, and 2 weeks later remove the piece of rooted stem and replant.
It can also be propagated by cuttings. Take stem cuttings; use a semi-hardwood rooting hormone for better success. The best time is in spring or summer when cuttings can root in as little as 3 weeks. Place cuttings into a medium that consists of equal parts peat, river sand and perlite; if possible, place cuttings in an enclosed area under a mist spray with bottom heating to 23–25ºC for best results. Then, wait for a bit of new stem growth and roots to be visible, before potting up. 
Plant both mature seedlings and rooted suckers or cuttings out into small containers until well grown and then transfer to larger containers, or plant in the garden into a well-drained soil. Keep the plant moist for the first couple of weeks after planting. Once established, much less watering is required.
P. zeylanica can be untidy in the garden, scrambling along and into other neighboring shrubs, so when mature, prune back whenever necessary. It tolerates a hard prune annually and comes back lush and compact. Best time to prune is in late winter. When kept short, it can be used as a groundcover or trimmed into a small, low-growing hedge.
Relatively pest and disease free but do remember beneficial insects use it as a forage food and so the individual leaves might occasionally look a little tatty, which is worth it if you are committed to supporting biodiversity in your garden.
References
Aubrey, A. 2001. Plumbago auriculata Lam. (Plumbaginaceae). PlantZAfrica. Online. http://pza.sanbi.org/plumbago-auriculata.
Baumgardt, J.P. 1982. How to identify flowering plant families. A practical guide for horticulturists and plant lovers. Timber Press, Oregon.
Bredenkamp, C.L. 2000. Plumbaginaceae. In O.A. Leistner, Seed plants of southern Africa. Strelitzia 10: 447, 448. National Botanical Institute, Pretoria.
Chauhan, M. 2019. Chitrak (Plumbago zeylanica) – properties, benefits and dosage. Planet Ayurveda. www.planetayurveda.com/library/chitrak-plumbago-zeylanica/. Accessed on 05/12/2020.
Germishuizen, G. & Fabian, A. 1997. Wild flowers of northern South Africa. Fernwood Press, Vlaeberg, Cape Town.
Grow Plants. Plumbago zeylanica. www.growplants.org/growing/plumbago-zeylanica. Accessed on 05/12/2020.
Hutchings, A., Scott, A.H., Lewis, G. & Cunningham, A.B. 1996. Zulu medicinal plants: an inventory. University of Natal Press, Pietermaritzburg.
Hyde, M.A., Wursten, B.T., Ballings, P. & Coates Palgrave, M. 2020. Flora of Zimbabwe: Species information: Plumbago zeylanica. www.zimbabweflora.co.zw/speciesdata/species.php?species_id=143690. Accessed on 05/12/2020.
Leistner, O.A. (ed.). 2000. Seed plants of southern Africa: families and genera. Strelitzia 10. National Botanical Institute, Pretoria.
Manning, J. 2009. Field guide to wild flowers of South Africa. Struik Nature, Cape Town.
SANBI. 2020. Plumbago zeylanica L. National Assessment: Red List of South African plants version 2020.1. Accessed on 07/12/2020.
van Wyk, B.E., van Oudtshoorn, B., Gericke, N., 1997, Medicinal Plants of South Africa, Briza Publications, Pretoria.
Wildflower Nursery. Plumbago-auriculata. https://wildflowernursery.co.za/indigenous-plant-database/plumbago-auriculata/. Accessed on 07/12/2020.
Credits
Keenan Williams
Kirstenbosch National Botanical Garden
December 2020
Acknowledgements: the author thanks Alice Notten for support and advice, and Therlo Schroeder for sharing personal knowledge of the plant.
Plant Attributes:
Plant Type: Ground Cover, Scrambler, Shrub
SA Distribution: Free State, Gauteng, KwaZulu-Natal, Limpopo, Mpumalanga
Soil type: Sandy, Loam
Flowering season: Sporadic/All year
PH: Acid, Neutral
Flower colour: White
Aspect: Full Sun, Shade, Morning Sun (Semi Shade), Afternoon Sun (Semi Shade)
Gardening skill: Easy
Special Features:
Attracts birds
Attracts butterflies
Drought resistant
Hedge/screen
Edible plant
Medical plant
Useful plant
Feeds honeybees
Pioneer plant
Horticultural zones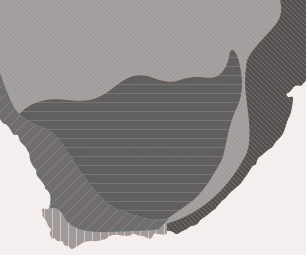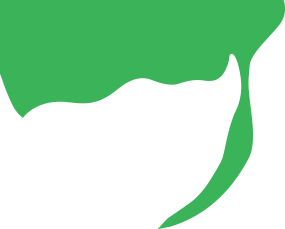 Zone 1 Coastal summer rainfall, frost free
Zone 2 Coastal winter rainfall, frost free
Zone 3 Winter rainfall Karoo, light frost
Zone 4 Summer rainfall Karoo and Highveld, Frost in winter
Zone 5 Bushveld summer rainfall, Light frost
Google QR Code Generator