Polygala myrtifolia L.
Family: Polygalaceae
Common names: september bush (Eng.); septemberbossie, augustusbossie, blouertjie, langelede (Afr.); ulopesi, ulapesi, umabalabala (Xho.); uchwasha (Zul.)
Introduction
Polygala myrtifolia is a common, widespread pioneer shrub with pretty mauve flowers on and off throughout the year with a peak in spring, hence the names Augustusbossie and September bush.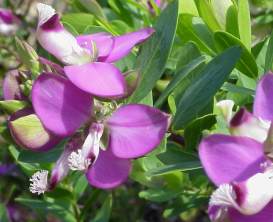 Description
Description
Polygala myrtifolia varies in form as it changes to adapt to the different areas it grows in, from the harshness of the coast to the drier inland climates. An evergreen shrub, the most common forms reach about 0.6 to 1.8 m in height with a few upright-growing stems and slender branches densely covered with leaves that resemble myrtle. The oval-shaped leaves are usually 25-50 mm long and up to 13 mm wide. The leaves are light green, dark green or slightly grey. Some forms of P. myrtifolia have thin, needle-like leaves. It can also grow into a small tree reaching almost 4 m high.
The buds are green, flat, marked with dark veins and oval to half-moon-shaped. The lower buds open first. The flowers are carried in small clusters at the ends of short branches and look a bit like legume (pea or bean) flowers, but are actually quite different. Close inspection will reveal that although they have two wings and a keel, they lack the banner (also called standard) petal. All polygalas also have a showy, and very distinctive brush-like tuft on the keel. The showy petals, beautifully marked with darker veins, are usually in shades of mauve or purple, but can also be pink scarlet, or white. Polygala myrtifolia has blooms throughout the year with a peak in spring ( August to October) when the plants flower profusely. The fruit is a small, winged capsule.
Distribution and habitat
Distribution description
Polygala myrtifolia occurs naturally from the Bokkeveld Mountains near Clanwilliam in the Western Cape to Kwazulu-Natal. Along this wide distribution area changing from winter to summer rainfall, it is commonly found growing on dunes, rocky slopes, in forests, along streams, in scrub and open grassland.
Derivation of name and historical aspects
History
Polygala is an old Greek name from the words polys meaning much and gala meaning milk, the name given to this genus for some of its members which have the reputation for promoting the secretion of milk. The species name myrtifolia means myrtle-like leaves.
The milkwort family (Polygalaceae) occurs nearly world-wide with 17 genera and 950 species. Of the 400-450 African species, 32 occur in the Cape region. The genus Poygala consists of about 600 species with 232 species in Africa and Madagascar of which approximately 88 species occur in southern Africa. Other local species grown in gardens include Polygala fruticosa and Polygala virgata.
Uses
Use
An interesting use for this polygala was recorded by Pappe , a German doctor and botanist who emigrated to the Cape in 1832. Pappe says that the Cape Malays scraped off the fresh grey bark, which they mixed with water and stirred until it frothed and then used this for washing their dead before burial. This custom dated back long before Pappe recorded it in 1860, but it is now long in disuse. Because of this use, the plant was known in the Cape as langelier or langelede, probably a corruption of the Afrikaans lange lede meaning long joints.
In KwaZulu-Natal Polygala myrtifolia is one of the many plants known for its antibacterial, antimicrobial and antifungal properties. Tests run by the University of Natal at Pietermaritzburg have found that aqueous extracts of P. myrtifolia showed activity against Candida albicans (which causes oral candidiasis).
Growing Polygala myrtifolia
Grow
Polygala myrtifolia is an attractive evergreen shrub able to adapt to most gardens and gardeners. A tough shrub suitable for coastal gardens, fynbos gardens, low maintenance and water-wise gardens. In the new garden it is excellent as a fast growing windbreak, hedge and colourful shrub able to grow in most soil types from full sun to semi-shade. Its growth is a bit more lax, producing fewer flowers in the shade, but it grows happily in the difficult pockets that change from full sun to semi-shade with the seasons.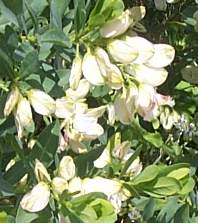 As mentioned, there are different forms of Polygala myrtifolia. At Kirstenbosch we have selected a beautiful, white-flowering form called P. myrtifolia 'White Feathers'. When in full flower from August to October the whole bush is covered with white flowers, a spectacular show. The leaves of the white form are slightly greyer and are lovely when contrasted with other leaves, forms and colours.
Polygala myrtifolia responds well to light pruning, which encourages a more bushy habit, but it is not necessary to prune if its full height and shape will not cause a problem in the garden design. Older plants can start to look untidy and woody, but at Kirstenbosch we have plants older then 15 years that still look good. Seedlings often germinate close to the parents.
Polygala myrtifolia can easily be propagated from seed and tip cuttings preferably taken in spring and autumn. In Western Cape the best time to plant is during the winter to allow the plants time to establish themselves before the dry, warm summer. With a thick mulch, P. myrtifolia would need very little watering once established.
References
2001. Annual report. School of Botany and Zoology, University of Natal, Pietermaritzburg at http://www.botany.unp.ac.za
Coates Palgrave, M. 2002. Keith Coates Palgrave Trees of southern Africa, edn 3. Struik, Cape Town.
Goldblatt, P. & Manning, J. 2002. Cape plants. A conspectus of the Cape flora of South Africa. Strelitzia 9.
National Botanical Institute, Pretoria & Missouri Botanical Garden.
Palmer, E. & Pitman, J. 1972. Trees of southern Africa. Balkema,Cape Town.
Smith, C.A. 1966. Common names of South African plants. Memoirs of the Botanical Survey of South Africa No. 35.
Credits
Liesl van der Walt
Kirstenbosch National Botanical Garden
September 2003
Plant Attributes:
Plant Type: Shrub
SA Distribution: Eastern Cape, KwaZulu-Natal, Western Cape
Soil type: Sandy, Loam
Flowering season: Spring, Sporadic/All year
PH: Acid, Neutral
Flower colour: Purple, Pink
Aspect: Full Sun, Morning Sun (Semi Shade), Afternoon Sun (Semi Shade)
Gardening skill: Easy
Special Features:
Drought resistant
Hedge/screen
Pioneer plant
Horticultural zones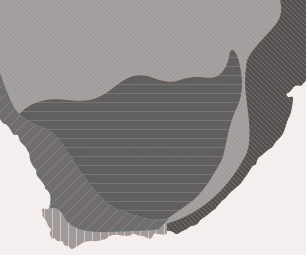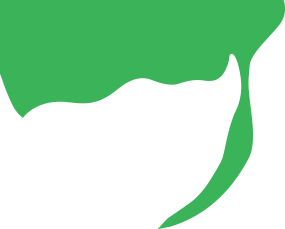 Zone 1 Coastal summer rainfall, frost free
Zone 2 Coastal winter rainfall, frost free
Zone 3 Winter rainfall Karoo, light frost
Zone 5 Bushveld summer rainfall, Light frost
Google QR Code Generator