Pteronia paniculata Thunb.
Family: Asteraceae
Common names: gum-bush (Eng.); gombos, gombossie (Afr.)
Introduction
Gum-bush is well known as one of the unpalatable species that normally invade disturbed or degraded areas in the Succulent Karoo, because of overgrazing. 
Description
Description
A low-growing, semi-deciduous, arid shrub that can reach up to 1 m high, with a dense, naturally rounded shape, formed by well-arranged branches growing from the base of a stem. When this growth habit is not achieved, the rounded shape becomes untidy, when the side branches leave the central branches and grow separately upright. 
Pteronia paniculata is often found growing as a multi-stemmed shrub, although individuals that have a stable anchor are comprised of branches arising slightly above the base of a single stem. Stems and branches are scrubby, dry and grey to silver-grey, with sheathing material when old. The new shoots normally appear as dry, brown and sticky. Leaves are glossy green, opposite, smooth, with a sticky consistency and are about 20 mm long and 3 mm wide. Young leaves are incurved, obtuse, having a smooth, half-circular cross section, sheathing at the base, and the sheath splitting eventually to form a membranous base.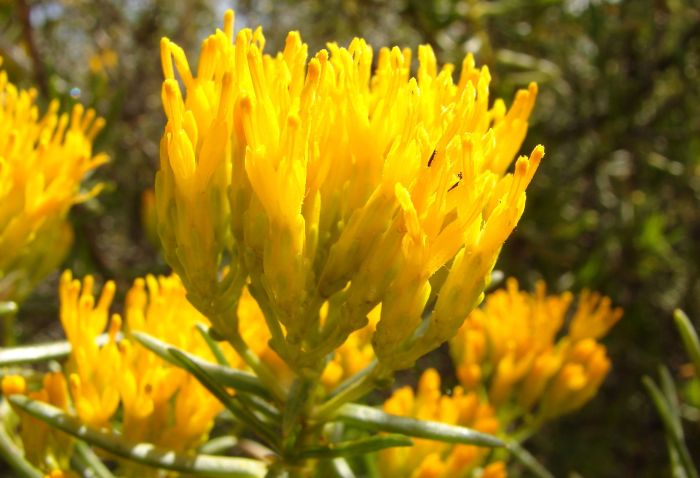 Inflorescence consists of flower-heads grouped in clusters, growing from a short pedicel, where an individual head can be on average 5 mm in diameter. Florets are yellow, supported by the yellow to yellow-green, non-sticky bracts. P. paniculata normally flowers in late spring to summer. Each flower-head produces one small seed, an achene, a dry, one-seeded fruit that does not open to release the seed.
Conservation Status
Status
Pteronia paniculata is not threatened, and is assessed as Least Concern (LC) in the Red List of South African plants.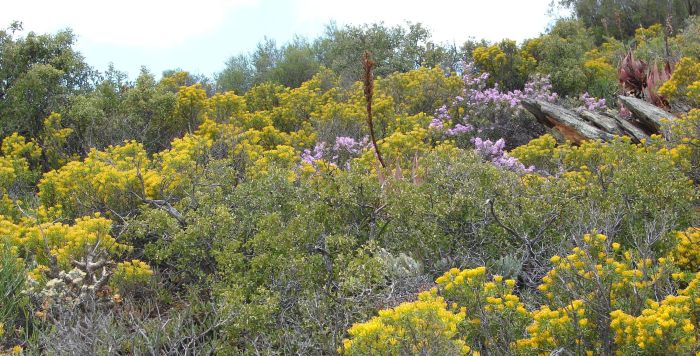 Distribution and habitat
Distribution description
Pteronia paniculata is found naturally growing in Namibia and in South Africa, where it occurs from the Northern Cape through the Western Cape to the Eastern Cape Province. In Namibia, P. paniculata is restricted to the extreme southwest, in the regions that receive winter rainfall. The widespread distribution of this species occurs over vast areas in the Succulent Karoo, as well as in Namaqualand. Most specifically, it occurs in the high-lying areas and the foothills, growing in sandy loam soils with some quartz present. It is also found growing on slopes where sands are windblown and in areas that are dominated by succulent plants. It also forms mono-specific stands in patches on the Central Mountain Renosterveld of the Little Karoo, where lands have been disturbed.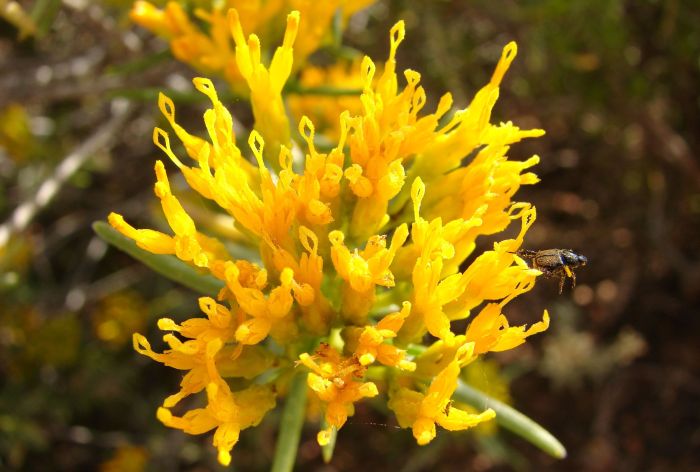 Derivation of name and historical aspects
History
The genus name, Pteronia is derived from the Greek word pteron, which means 'a wing', but the reason for the name is not clear. The specific epithet paniculata means 'with panicles' and is in reference to the flowers of this species, which appear in branched clusters (panicles).
The genus Pteronia mainly originates from southern Africa, and is comprised of about 80 species. Within the family Asteraceae, Pteronia is identified as the genus with characteristics that are rare in other related genera, such as: spiny habit, opposite and succulent leaves, as well as a beaked achene. Most of the Pteronia species are found in the Karoo-Namib region, whereas 12 species have been identified in the Fynbos Biome. Namibia has recorded about 24 species that are native to the country. Some Pteronia species are found growing in Angola, Lesotho, Swaziland and Zimbabwe.
Pteronia species are usually found dominating in the plant communities that they are associated with. The morphology of Pteronia is diverse and there is significant difference between the species belonging to this genus, in habit, flowers and leaf shapes. This genus is considered to be closely related to Engleria and isolated from the African Compositae. However, Engleria has radiate capitula, whereas Pteronia has discoid capitula. Pteronia has been placed in the Engleria group, falling under the subtribe Solidagininae of the tribe Astereae. Eventually, the placement of Pteronia in the subtribe Solidagininae was defined as uncertain by Kare Bremer, because of the pending revision of the entire genus.
Pteronia species were once divided into 4 sections: Incanae, Papillatae, Ciliatae and Glabratae. Later on it was noticed that there is no consistency in this division, where extreme differences were identified between species in the same section and, similarities were also identified in species belonging to the different sections. From 144 recorded Pteronia species names, statistics show about 72 accepted species with 50 synonyms and 22 unassessed species. From these species, 2 are recorded as invalid and 1 as illegitimate.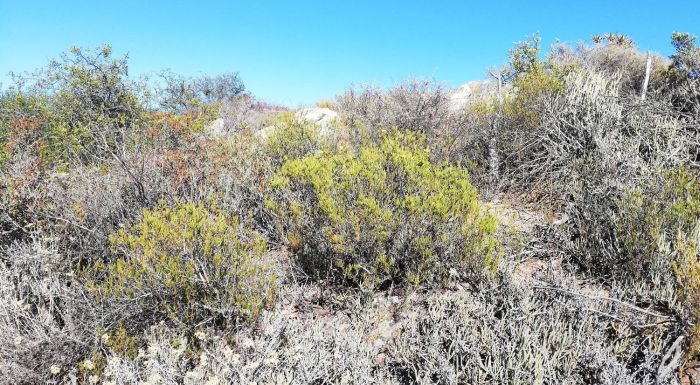 Ecology
Ecology
Pteronia paniculata cannot resist fire; it burns and does not resprout after being exposed to fires. However, Pteronia stricta and other related species growing in the Fynbos regions do re-sprout after fires. Most of the gum-bushes, including P. paniculata, are identified as not edible and poisonous to livestock. These species often secrete a sticky resin from their leaves and flower bracts that works in favour of the plant, making it unpalatable to the grazing animals. However, P. paniculata only secretes sticky resin from the leaves and not the flowers. It is not known what the pollinators of P. paniculata are, although, some Pteronia species may be pollinated by bees. Different female bee species have been identified and collected from a number of gum-bushes.
Gum-bushes naturally occur in dry, rocky habitats with extreme temperatures, and Pteronia paniculata co-occurs with its close relative, P. incana in most of the populations. These species provide optimum growing conditions for low-growing succulent perennials to establish themselves underneath and close beside them.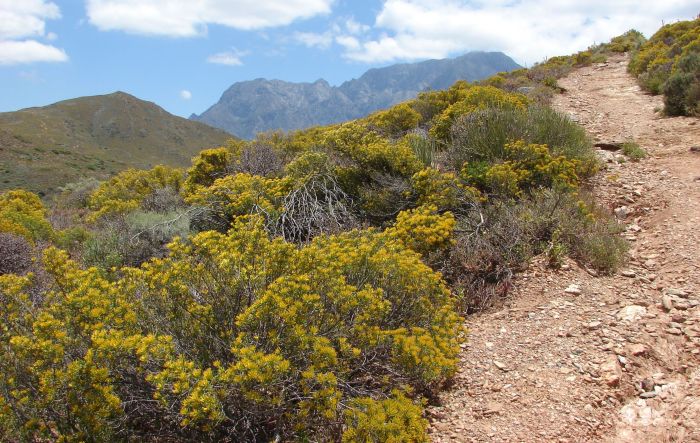 Uses
Use
In dry, rocky landscapes, gum-bush can be used as an ornamental plant. Although it is less attractive, it supports most of the principles for water-wise gardening or xeriscaping, where drought-tolerant plants are used. In spring and early summer, gum-bush adds colour to the garden with its clumps of yellow flowers which are appealing and eye-catching. They remain green and survive, with no additional watering, during the hot, dry summer.
With it being unpalatable it is not used for browsing stock, and there are no plant parts of P. paniculata that have been identified as being used traditionally or for medicinal use. However, its close relatives, P. incana and P. divaricata are used in traditional medicine to treat influenza, fever, kidney ailments, as well as backache. More species from the genus Pteronia that are also used traditionally include: P. aspera, which has been recently identified as an important Nama medicinal plant called inhora or norraboegoe; and P. onobromoides, which was used by the Khoi tribes, who powdered the plant material and mixed it with fats to make a perfumed skin lotion.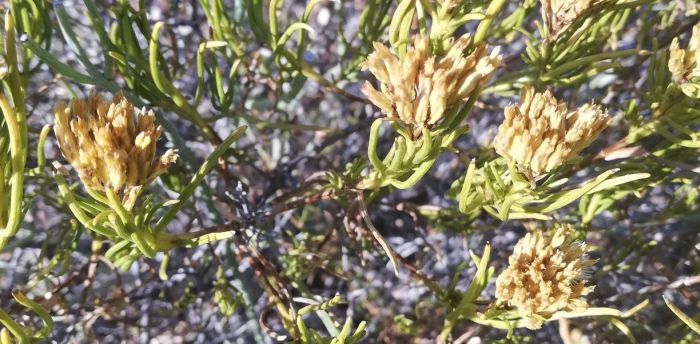 Growing Pteronia paniculata
Grow
Pteronia paniculata grows extremely well in dry and hot conditions and grows rapidly under favourable conditions. Sandy-loam soil with coarse sand particles, consisting of a pH of 5.5, is ideal for growing P. paniculata.
At the Karoo Desert National Botanical Garden, P. paniculata is propagated through seed sowing and it does extremely well. Seeds are collected in autumn. When the flowerheads are dry, they are grinded to free the tiny seeds, stored and sown in summer. Use a mixture of sand and sifted potting soil at a ratio of 50:50. Prepare germination trays with good drainage, place coarse bark chips or any coarse particles that will encourage drainage, in the trays. Sow gum-bush seeds on the surface of the soil medium and cover them with fine soil to avoid being washed away during watering. Do not bury the seeds, as they are tiny. Water the seed trays with a fine spray, or mist sprayer, which is preferred for watering tiny seeds. Place trays in a semi-shaded area and keep them moist all the time and not damp, until germination takes place. Germination will take place in about 2 weeks on average.
When seeds have germinated, reduce watering and allow air circulation through the soil. Transplant the seedlings about 3 months after germination. Use sandy loam soil for transplanting, with the addition of organic fertilizers or well-decomposed compost. Do not apply too much of the nutrient supplements as it may pose a disease threat to the plant. Handle roots carefully when transplanting and keep seedlings in a semi-shaded area after transplanting, until they are well adapted to their new conditions. After adapting to new containers, move seedlings to a full sun area before planting into an open space in the garden.
Propagation by cuttings has not being tried on this species at the Karoo Desert NBG. However, one of the relatives, P. aspera is being easily propagated by cuttings at Kirstenbosch National Botanical Garden. Cuttings are done throughout the year. About 30 mm to 60 mm of softwood to semi-hardwood cuttings are made. Make a cutting just underneath the node and dip the cuttings into a rooting hormone. Use coarse river sand as a cutting medium, a ratio of 70% river sand and 30% peat or fine potting mix will support the growing of cuttings. Place cuttings in a glasshouse or misting unit with a heated bench. When cuttings have rooted, apply the same procedures as those described above for the transplanting of seedlings.
References
Foden, W. & Potter, L. 2005. Pteronia paniculata Thunb. National Assessment: Red List of South African plants version 2020.1. Accessed on 2021/02/09.
Harvey, W.H. 1894. Flora capensis: Pteronia paniculata. Accessed via JSTOR: Global plants.
Kolberg, H. & Van Slageren, M. 2014. A synopsis of the genus Pteronia (Compositae: Astereae) in Namibia including the resurrection of Pteronia quadrifaria. Kew Bulletin 69: 9488.
Latti, I. & Maphisa, T. n.d. Pteronia paniculata. Operation Wildflower. Online. https://www.operationwildflower.org.za/index.php/albums/genera-m-z/pteronia/pteronia-paniculata-thabo-3-1708. Accessed on 2021/02/10.
Oliver, R. 2019. Pteronia aspera Thunb. (Asteraceae). PlantZAfrica. Online. http://pza.sanbi.org/pteronia-aspera
Saayman, N. & Botha, J.C. 2008. Does the soil seed bank of veld dominated by Pteronia paniculata change as a result of brush-cutting? Grassroots: Newsletter of the Grassland Society of southern Africa 8(1): 32–35.
Saayman, N., Morris, C.D., Hardy, M.B. & Botha, J.C. 2009. Can brush-cutting of Pteronia paniculata improve the composition and productivity of veld in the Succulent Karoo, South Africa? African Journal of Range & Forage Science 26(3): 181-190.
The Plant List. 2013. Version 1.1. Pteronia paniculata Thunb. http://www.theplantlist.org/tpl1.1/record/gcc-109900. Accessed on 2021/02/10.
Vlok, J. & Schutte-Vlok, A. 2010. Plants of the Klein Karoo. Umdaus Press, Hatfield, Pretoria.
Credits
Thabang Makola
Karoo Desert National Botanical Garden
March 2021
Acknowledgements: the author thanks Lize Labuscagne and Naomi Mdayi for photos of Pteronia paniculata in flower.
Plant Attributes:
Plant Type: Shrub
SA Distribution: Eastern Cape, Northern Cape, Western Cape
Soil type: Sandy, Loam
Flowering season: Spring, Early Summer
PH: Acid, Neutral
Flower colour: Yellow
Aspect: Full Sun
Gardening skill: Average
Special Features:
Drought resistant
Pioneer plant
Horticultural zones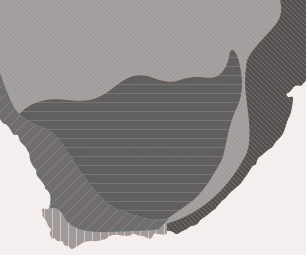 Zone 2 Coastal winter rainfall, frost free
Zone 3 Winter rainfall Karoo, light frost
Google QR Code Generator