Ruschia maxima (Haw.) L.Bolus
Family: Aizoaceae
Common names: giant mountain vygie (Eng.)
Introduction
Ruschia maxima is one of the largest species in its genus. It has characteristically larger leaves than most other vygies and is crowned as the giant mountain vygie.
Description
Description
This large erect perennial shrub can spread more than 1 m. The branches are woody and tough with short internodes. It also has very large, opposite, three-sided leaves with a reddish tint on the leaf tips.
Flowers are small with purple petals with a cone of stamens. When flowering, the plant is covered in sweet-scented flowers. Flowering can take place at any time of the year, but most Ruschia species flower from September to November. Mature fruits of this plant are small, hard and contain 4 or 5 locules.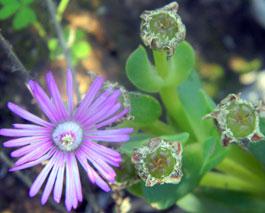 Conservation Status
Status
This species is not threatened.
Distribution and habitat
Distribution description
Ruschia maxima occurs in the Western Cape near the coast and inland towards Clanwilliam and the Bobbejaansberge, at altitudes of 300-800 m. Many specimens have been found on north-facing slopes and they can tolerate rainfall ranging from less than 100 mm to 800 mm per year. Ruschia maxima can tolerate frost and fires. It is found in different habitats and grows in all kinds of soil, derived from sandstone, quartzite, clay and shale.  The genus Ruschia is widespread in South Africa and occurs in summer rainfall regions too.
Derivation of name and historical aspects
History
Ruschia was named after a farmer, Mr. Ernst Rusch, of the farm Lichtenstein, near Windhoek (Namibia). There are more or less 51 species in this genus. Ruschia can easily be mistaken for Lampranthus or Drosanthemum, which all fall under the same family, Mesembryanthemaceae (Aizoaceae). Lampranthus and Drosanthemum have much bigger flowers and a wider colour range than Ruschia . Ruschia maxima, however, is the largest amongst the Ruschia species.
Ecology
Ecology
The showy bright colours of these plants attract their main pollinators which are insects (bees, butterflies and beetles).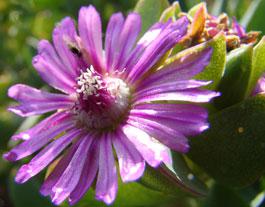 Mature seed capsules are hard and have a unique way of dispersing the seeds. The capsules are adapted perfectly to desert conditions, as they only open when conditions are favourable for germination. The capsules are hygrochastic, in other words, when it rains the capsules open and the rain drops disperse the seeds a distance away from the mother plant. This method of dispersal results in a higher rate of germination.
The leaves turn rusty-brown in dry periods of the year, preventing the plant from overheating. The thick and fleshy leaves also store water in time of drought and the root system is fibrous and shallow, an adaptation for the uptake of moisture from mist or a light drizzle.
Ruschias dominate parts of the Succulent Karoo but are not known to be grazed by livestock.
Uses
Use
Little is known about the medicinal value of these plants.
Growing Ruschia maxima
Grow
The whole plant is covered in flowers during the flowering period, which makes it an ideal plant as a focal point in the garden. It does well in cultivation, is a good water-wise plant and is suitable for arid and semi-arid gardens. It looks great in a rockery or desert garden, can also be used as a border, and can make the ideal potplant.
Ruschia maxima can easily be propagated from seed or cuttings.
Sow seeds in February or March in a well drained medium consisting of 2 parts coarse river sand, 2 parts fine, sieved compost and 1 part perlite. When sowing, do not overcrowd the tray that you are sowing in, so that your seedlings do not have to compete for nutrients. The transfer of fungal diseases is also minimised. Treat the soil medium with an antifungal agent for maximum results.
Heel cuttings (where a piece of stem tissue is attached) must be made during the warmer seasons with sterilized secateurs and in a medium which is well aerated, like coarse river sand. Apply a rooting hormone to stimulate root growth.
Care should be taken, since root hairs can die off if not watered regularly.                                    
References
Cowling, R. & Pierce, S. 2002. Namaqualand: A succulent desert. Fernwood Press, Vlaeberg.Herre, H. 1971. The genera of the Mesembryanthemaceae. Tafelberg-Uitgewers, Cape Town and Johannesburg.
Nichols, G. 2005. Growing rare plants: a practical handbook on propagating the threatened plants of southern Africa. Southern African Botanical Diversity Network Report No. 36. SABONET, Pretoria.
Rowley, G.D. 1980. Name that succulent . Stanley Thornes, Cheltenham, UK.Smith, G.F. & Van Wyk, B.-E. Garden succulents . 2008. Briza Publications, Pretoria.
Credits
Ricardo Riddles
Karoo Desert NBG
January 2012
Plant Attributes:
Plant Type: Perennial, Shrub
SA Distribution: Western Cape
Soil type: Sandy, Clay, Loam
Flowering season: Sporadic/All year
PH: Acid, Alkaline, Neutral
Flower colour: Purple
Aspect: Full Sun
Gardening skill: Easy
Special Features:
Attracts butterflies
Drought resistant
Fragrant
Good potplant
Feeds honeybees
Horticultural zones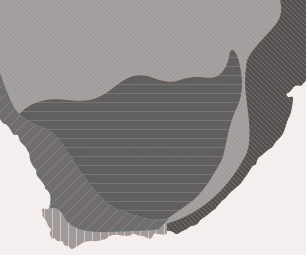 Zone 1 Coastal summer rainfall, frost free
Zone 2 Coastal winter rainfall, frost free
Zone 3 Winter rainfall Karoo, light frost
Zone 4 Summer rainfall Karoo and Highveld, Frost in winter
Google QR Code Generator