Spirostachys africana Sond.
Family: Euphorbiaceae
Common names: tamboti (Eng.); tambotie (Afr.); umThombothi (Zulu); Modiba (Northern Sotho); umThombotsi (siSwati); Ndzopfori (Tsonga); Morukuru (Tswana); Muonze (tshiVenda)
SA Tree No: 341
Introduction
Renowned for its beautiful wood, Spirostachys africana is a medium-sized, semi-deciduous tree with a round crown which occurs in low altitude bushveld, often in woodland, on watercourses and savannas.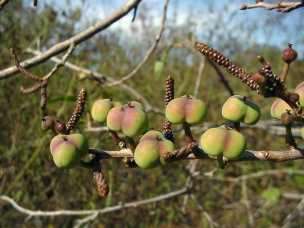 Description
Description
Spirostachys africana can grow up to 18 m in height. The tree is commonly known for its toxic milky latex that exudes from all parts of it. Its characteristic bark is dark brown to black, thick, rough and neatly cracked into regular rectangular blocks that are arranged in longitudinal rows.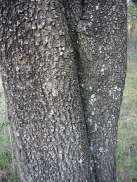 Leaves are alternate, simple and are up to 70 x 35 mm and the margins are finely toothed. The young, red leaves are often visible among the older, green leaves in spring.
The flowerheads are 15-30 mm long, bearing mostly male and a few female flowers. The female flowers are attached at the base of each spike. Flowering takes place in August to September before the new leaves appear. The flowering spikes of this plant are unusual in appearance as the male flowers appear gold-coloured because of the pollen whereas female flowers are blood red.
The fruit is a capsule that is three-lobed and opens with an exploding sound that can be heard on hot summer days when ripe (from October to February). The tamboti is one of the 'jumping bean' trees because the seeds become infested with the larvae of a small grey moth, which then causes the seed to jump centimetres into the air.
Distribution and habitat
Distribution description
Spirostachys africana occurs naturally from KwaZulu-Natal in the South to Tanzania in the North. It is common in the Lowveld and occurs in all soil types. It is most often seen in groups of a few big trees along the rivers or streambanks, but may also grow in large groups of small trees. This tree can also be found growing in all southern African countries except Lesotho.
Derivation of name and historical aspects
History
The generic name, Spirostachys refers to the spiral arrangement of the flowers on the spike, and africana means from Africa.
Ecology
Ecology
Spirostachys africana is a popular food source for wild animals. Francolins, guineafowl and doves eat the fruits. Kudu, nyala, impala and vervet monkeys, elephants, bushbuck, giraffe and eland feed on fresh leaves of this tree and the black rhino eat the young branches. Duiker, impala and nyala also feed on the dry fallen leaves of this tree.
Uses
Use
The wood is used to manufacture good furniture and the poisonous latex is traditionally used to stupify fish, making them easier to catch. The sawdust from the wood is harmful to the eyes and can even cause blindness. The wood is so strong that you can also make gun-stocks or arrows from it. It is not suitable as firewood because the smoke is toxic and will cause diarrhoea if meat roasted on the coals is eaten. The tree is classified as a precious timber in Mozambique.
The wood is still used traditionally for fencing, hut rafters, walking sticks and necklaces. The scented wood is beautifully figured with creamy white sapwood and dark brown heartwood. Although the latex is very toxic to humans it does have traditional medicinal uses, for example, a drop of the fresh latex is applied to a painful tooth as painkiller. The bark is used to treat stomach pains but large dosages will cause damage to the internal organs.
Growing Spirostachys africana
Grow
This tree is very attractive in larger gardens, especially with the red colouring of the leaves in spring and autumn. The tree is fairly drought and frost resistant, but grows very slowly. It grows well from seeds but they must be collected before they fall because they can be easily parasitized. The seeds should then be sown in containers filled with river sand without covering them, but should just be pushed into the sand until level with the surface and be kept moist. The tamboti is a protected tree in South Africa.
References
Coates Palgrave, M. 2002. Keith Coates Palgrave Trees of southern Africa, edn 3. Struik, Cape Town.
Grant, R. & Thomas, V. 1997. Sappi tree spotting. Lowveld. Jacana Education, Houghton.
Van Wyk, B., Van Wyk, P. & Van Wyk, B-E. 2000. Photographic guide to trees of southern Africa. Briza Publications, Pretoria.
Van Wyk, B-E. & Gericke, N. 2000. People's plants. A guide to useful plants of South Africa. Briza Publications, Pretoria.
Van Wyk, B-E., Van Heerden, F., & Van Oudtshoorn, B. 2002. Poisonous plants of South Africa. Briza Publications, Pretoria.
Venter, F. & Venter, J.A, 1996. Making the most of indigenous trees. Briza Publications, Pretoria.
Credits
Avhurengwi Phillemon Ndou
Walter Sisulu National Botanical Garden
October 2004
Plant Attributes:
Plant Type: Tree
SA Distribution: Gauteng, KwaZulu-Natal, Limpopo, Mpumalanga, North West
Soil type: Sandy, Clay, Loam
Flowering season: Spring, Early Summer
PH: Alkaline, Neutral
Flower colour: Red, Cream
Aspect: Full Sun
Gardening skill: Easy
Special Features:
Drought resistant
Poisonous
Medical plant
Useful plant
Horticultural zones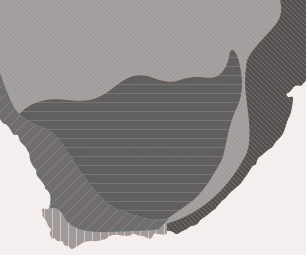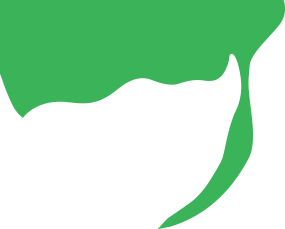 Zone 1 Coastal summer rainfall, frost free
Zone 5 Bushveld summer rainfall, Light frost
Google QR Code Generator