Strelitzia nicolai Regel & Koern.
Family: Strelitziaceae
Common names: Natal wild banana, (E); Natalse wildepiesang (A); isigude, igceba, inkamanga (Z); ikhamanga, isigude, isigceba (X).
SA Tree No: 34
Introduction
This is a tall, striking foliage plant related to the well-known Crane Flower, Strelitzia reginae.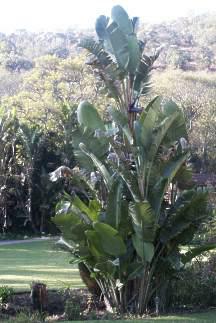 Description
Description
The Natal Wild Banana grows up to 12m high and 4m wide. It is an evergreen tree with multi-stems that form dense clumps. The stem is woody and smooth in texture. It is light to dark grey and marked with old leaf scars. Attached to the stem by long, thick leaf stalks are the enormous, opposite leaves that are shiny and grey-green, with blades capable of reaching up to 2m in length. These tear in the wind and come to resemble giant feathers. Although not related to the true bananas or the wild banana Ensete ventricosum, the leaves and growth habit of S. nicolai are somewhat similar and probably account for the common name.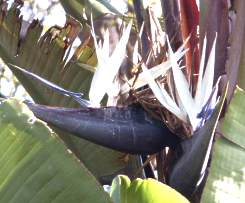 The flower of the Natal Wild Banana is a typical Crane Flower inflorescence, up to 500 mm long. The flowers of this tree have white sepals with blue petals and consist of 5 purplish blue, boat-shape sheaths.The whole flower resembles the head of the bird, with a white crest and purple beak. The tree flowers throughout the year with a peak in spring-summer. The inflorescence is compound (more than one flower).
The seeds are black in colour, with a tuft of a bright orange woolly aril on the lobe. They are produced mostly in autumn and winter, March to July.
Distribution and habitat
Distribution description
The Natal wild banana grows mostly in coastal dune vegetation and in evergreen forests near the coast. It is a common feature of the coastal vegetation from East London northwards. It grows in the Eastern Cape, KwaZulu-Natal and up into Mozambique towards Zimbabwe.
Derivation of name and historical aspects
History
The name Strelitzia was given to honour Queen Charlotte, the wife of King George III of England. She was from the house of Mecklenburg-Strelitz. There has been some confusion over which Nicholas the specific epiphet honours, but original description in Garden flora states that the name nicolai is in honour of Grand duke Nikolai Nikolaievich the elder, third son of Czar Nicholas I of Russia, and not for the Czar.
Ecology
Ecology
The flowers provides nectar that attracts sunbirds, especially Olive Sunbirdsand Grey Sunbirds. Vervet and Samango monkeys feed on the soft part of the flowers as well as on the orange aril of the seeds. Birds and blue duiker also feed on the flowers. Frogs and ducks often shelter in the clumps along rivers for protection.
Uses
Use
Leaf stalks are dried and used to make a rope for building fish kraals and huts. The immature seeds are edible and tasty.
Growing Strelitzia nicolai
Grow
The Natal wild banana is fairly drought tolerant, but it does not tolerate severe frost, so plant it in a protected spot inland. It withstands salty coastal winds, making it a good feature plant or screen for coastal gardens. Strelitzia nicolai is an eyecatching evergreen, effective throughout the year and is useful for creating a lush, tropical effect. It can be used to offset hard landscaping, buildings and pools etc. It also looks good contrasted with evergreen lawns and shrubs. The root system is aggressive,however, so don't plant it too close to structures and paths. Surprisingly it will even survive it a large pot for several years, and this may be the best way to grow it if you have a patio or small garden.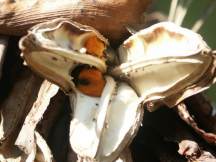 The easiest way to propagate this tree is from root suckers, but it will also grow from seed. To grow from seed remove the orange arils and sow seed in a mixture of equal parts river sand and compost. Cover with a thin layer of compost and keep moist. Keep seedlings in a shady spot for the first season. Once planted out this plantis fast growing. It will grow in semi-shade or full sun and requires a moderate amount of water, composted soil and space to spread.
References
Gartenflora 1858(266)
Grant, R and Thomas, V. 1998. Sappi Tree Spotting Kwazulu-Natal. Jacana Publishers. Johannesburg.
Jackson, W.P. 1990. Origins and Meanings of Names of South Africa. UCT Publishers. Cape Town.
Pooley, E 1993. Trees of Natal. Natal flora Publication. Durban.
Van Wyk, B and Van Wyk, P. 1997. Trees of South Africa. Struik Publishers. Cape Town.
Credits
Moeketsi Letsela
Witwatersrand National Botanical Garden
with additions by Yvonne Reynolds
June 2002
Plant Attributes:
Plant Type: Tree
SA Distribution: Eastern Cape, KwaZulu-Natal
Soil type: Sandy, Clay, Loam
Flowering season: Sporadic/All year
PH: Acid, Alkaline, Neutral
Flower colour: Blue, White
Aspect: Full Sun, Morning Sun (Semi Shade), Afternoon Sun (Semi Shade)
Gardening skill: Easy
Special Features:
Feature plant
Hedge/screen
Wet sites
Horticultural zones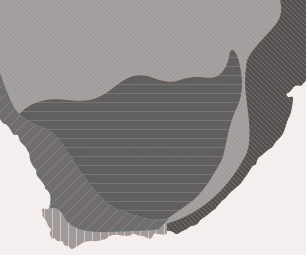 Zone 1 Coastal summer rainfall, frost free
Zone 2 Coastal winter rainfall, frost free
Google QR Code Generator