Struthiola ciliata (L.) Lam.
Family: Thymelaeaceae
Common names: evening gonna, lax gonna, the lady that passes by in the night (Eng.); stroopbossie, juffertjie-roer-by-die-nag, aandgonna, slapgonna (Afr.)
Introduction
This pretty ericoid shrublet is common in the Western Cape and makes a rewarding garden plant as it flowers all year round. It produces slender plumes of dainty white flowers that become fragrant at night. The site of scent production differs from that found in most plants.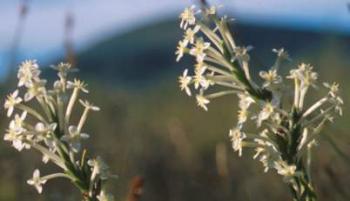 Description
Description
Struthiola ciliata is a shrub of up to 1.5 m high with flatly pressed back, hairy to woolly branches. Leaves are opposite, linear-lanceolate to narrowly elliptic, faintly ribbed beneath with a fringe of hairs along the edge. Flowers are axillary, cream-coloured, pink or reddish, the corolla is covered by very few scattered hairs. The mouth of the corolla tube is surrounded by eight hairy petaloid scales. Stamens are four and are included within the tube just below the mouth of the corolla. Flowers are unscented during the day but begin to emit a strong fragrance at dusk at ± 18h00, and continue to do so throughout the night.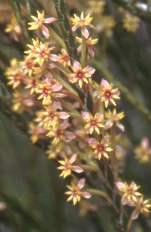 Conservation Status
Status
Least Concern, since it is found in great abundance (Threatened Species Programme, SANBI).
Distribution and habitat
Distribution description
The genus Struthiola, with some 40 species, is distributed throughout southern and tropical Africa, with a concentration of species in the fynbos vegetation in the Western Cape, where 21 species are recorded (Goldblatt & Manning, 2000). S. ciliata extends from Namaqualand through the Western Cape and Little Karoo to Albertinia, mainly on sandy flats and sandstone slopes.
Derivation of name and historical aspects
History
The word gonna is a corruption of the Koisan name for several members of the Thymelaeaceae (Smith 1966). The genus Struthiola is derived from the Greek word for a small bird or sparrow and may refer to the tiny seed resembling a sparrow's beak ( Jackson 1990). The species name ciliata refers to the fringe of hairs along the leaf margin.
Ecology
Ecology
Pollinators are noctuid moths Cucullia terensis Felder & Rogenhofer and Syngrapha circumflexa Linnaeus (Lepidoptera: Noctuidae), which were observed visiting the flowers at dusk and during the early evening. Scent is emitted by the petaloid scales. The identification of the role of the petaloid scales as scent glands suggests some possible adaptive significance in the variation in size, number and texture of the scales in Gnidia and Struthiola. The increase in scale number to twelve that is evident in several species from the south-western Cape (Goldblatt & Manning 2000) may thus represent a strategy for increasing the area of scent production, but this remains to be investigated.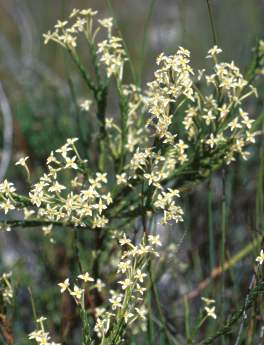 Growing Struthiola ciliata
Grow
The best method is to take heel cuttings by stripping off the stem in autumn/spring. Place the cuttings in a moist unit with heat from below. Dip the base of the cuttings in a rooting hormone. Cuttings take six weeks to root. After rooting, put them in a shady place to harden off. Feed them with organic liquid fertilizer. After three weeks plant them in a potting mixture under shade net. Grow them in an acidic soil medium (5.5-6.7 pH) in a rockery, with good drainage and in sunny conditions. Pruning results in nicely shaped plants. Be careful not to disturb the roots because the plants are very sensitive to root disturbance (A. Hitchcock pers. comm.).
Another species to try in your garden is Struthiola myrsinites.
References
Goldblatt, P., Manning, J. 2000. Cape plants. A conspectus of the Cape flora of South Africa. Strelitzia 9. National Botanical Institute, Cape Town, South Africa and Missouri Botanical Garden, St Louis.
Jackson, W.P.U. 1990. Origins of meanings of names of South African plant genera. University of Cape Town.
Smith, C.A. 1966. Common names of South African plants. Memoirs of the Botanical Survey of South Africa No. 35.
Credits
Tsepang Makholela
Pretoria National Botanical Garden
July 2006
Plant Attributes:
Plant Type: Shrub
SA Distribution: Northern Cape, Western Cape
Soil type: Sandy
Flowering season: Sporadic/All year
PH: Acid, Neutral
Flower colour: Red, White, Pink
Aspect: Full Sun
Gardening skill: Average
Special Features:
Fragrant
Horticultural zones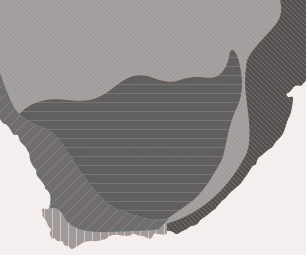 Zone 2 Coastal winter rainfall, frost free
Zone 3 Winter rainfall Karoo, light frost
Google QR Code Generator