Syncarpha argyropsis (DC.) B.Nord.
Family: Asteraceae
Common names: white everlasting (Eng.); witsewejaartjie, beesoogsewejaartjie (Afr.)
Introduction
Syncarpha argyropsis is a very attractive plant that grows well at Kirstenbosch and is a very promising horticultural plant for commercial use.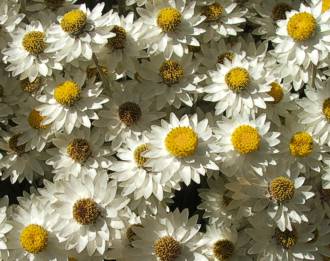 Description
Description
Syncarpha argyropsis is an ornamental plant forming a dense, rounded shrublet up to about 500 mm high and 500 mm wide. The rambling branches are tightly woven into a latticework of shiny, silvery, felted stems and leaves that form a compact ball. It produces tight, silvery white buds that open to lovely, crisp, papery flowers with bright yellow centres. The buds develop from midwinter and the flowers persist from late winter until early summer (August to November). The flowers are crowded at the ends of the branches and cover the entire plant. The flower heads last for quite a few months which is why it is known as one of the everlasting group of plants.
The only collection of this species represented at Kirstenbosch is from the coast at the Skoenmakerskop Nature Reserve. The plants there were growing on sand dunes and formed large, neat, rounded shrubs. Most of the plants had silvery flowers, but a selection was made of a form with a lovely pink blush which also grows at Kirstenbosch. This selection has been called Syncarpha argyropsis `Blush'.
Conservation Status
Status
Syncarpha argyropsis is not listed as threatened, but this might change owing to the intensive pressure for development along the southern Cape coast.
Distribution and habitat
Distribution description
Syncarpha argyropsis is an herbaceous perennial that is restricted to the coastal zone from Rooi Els near Betty's Bay in the west to Port Elizabeth. Herbarium records show that it occurs consistently on or near the coast on tertiary limestone outcrops or dune sands. It also grows on dry sand dunes around coastal pans.
Derivation of name and historical aspects
History
Syncarpha is derived from the Greek syn, meaning united, and carphos, a small dry body, possibly referring to the dry, papery floral bracts which are united into a cone-like structure. The species name means like silver, from the Greek argyros, silver and opsis, appearance.
The vernacular name sewejaartjie comes from the belief that the flower heads will last for seven (sewe) years (jaar) when cut and kept in the house. The name is given to almost all species of Syncarpha and Helichrysum that have decorative papery flowers heads.
This plant was previously known as Helipterum argyropsis DC.
Ecology
Ecology
Syncarpha argyropsis shows a number of adaptations typical of many plants that grow close to the sea. It grows in neutral to alkaline soils in deep sand such as on sand dunes and out of calcrete crevices. It is well adapted to the quite harsh conditions found along the southern Cape coast, which include strong salty winds, wind-blown sand, hot, sunny, and dry summers. Its adaptation to this climate includes felt-like hairiness and silvery foliage that protect it from damage and desiccation from salt-laden wind. The fine hairs on the leaves and stems keep salt particles from direct contact with the plant surfaces and trap moist air around the plant. The silvery foliage reflects the harsh, bright summer sun's rays instead of absorbing too much heat.
Uses
Use
Syncarpha argyropsis is hardy in Cape Mediterranean conditions and an attractive addition to coastal and fynbos gardens. Its lovely shape and attractive texture and flowers make it a wonderful addition to the arsenal of any landscape gardener. This is the type of plant that will make a dramatic impression when arranged in large, sweeping plantings.
It is a long-lasting cut flower, and excellent in dried arrangements and wreaths as the papery flowers last for many years.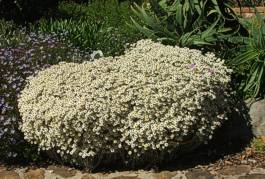 Growing Syncarpha argyropsis
Grow
Syncarpha argyropsis is easily rooted from cuttings. Tip or stem cuttings root well in multi-trays on heated benches under mist spray. Cuttings are rooted in autumn or spring in a rooting medium of equal parts bark and polystyrene chips. They will also root in cold frames in coarse, well-drained sand. Soft wood or semi-hardwood rooting hormone may be used to aid the rooting process.
This species grows easily from seed sown in well-drained, sandy soil and subjected to smoke treatment. Seed is normally sown from late summer into autumn, i.e. March to May or in spring or early summer in September to November.
Syncarpha argyropsis should be planted in gardens where it is in full sunlight and is well ventilated. This species performs best when planted in rockeries on sloping ground, terraces or embankments.
This species does not require pruning as it naturally retains a lovely compact shape. Even though it grows naturally in sandy calcareous soils, it adapts well to a variety of other soil types as long as they are well drained. These include poorer acidic fynbos soils, calcareous soils and granitic soils. This species does not need large quantities of fertilizers; however, regular applications of diluted organic liquid or small amounts of organic pellet fertilizers such as Bounce Back will yield good results. Mulching with well-rotted compost once or twice a year is also recommended.
References
Bohnen, P. 1986. Flowering plants of the southern Cape. Still Bay Trust.
Goldblatt, P. & Manning, J. 2000. Cape plants. A conspectus of the Cape flora of South Africa. Strelitzia 9. National Botanical Institute, Cape Town and Missouri Botanical Garden.
Jackson, W.P.U. 1990. Origins and meanings of names of South African plant genera. University of Cape Town Printing Department.
Mustart, P., Cowling, R. & Albertyn, J. 1997. Southern Overberg. South African Wild Flower Guide 8. Botanical Society of South Africa, Cape Town.
Smith, C.A. 1966. Common names of South African plants. Memoirs of the Botanical Survey of South Africa No. 35.
Vardien, W. 2008-02. Syncarpha eximia (L.) B.Nord. (Asteraceae). Internet 2 pp. http://www.plantzafrica.com/plantqrs/syncarphexim.htm.
Credits
Anthony Hitchcock
Kirstenbosch National Botanical Garden
October 2009
Plant Attributes:
Plant Type: Perennial, Shrub
SA Distribution: Western Cape
Soil type: Sandy
Flowering season: Spring, Early Summer
PH: Acid, Alkaline, Neutral
Flower colour: White, Pink
Aspect: Full Sun
Gardening skill: Easy
Special Features:
Feeds honeybees
Horticultural zones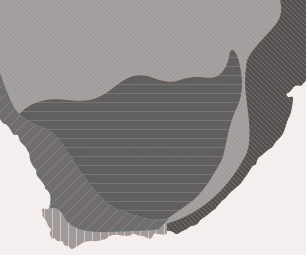 Zone 2 Coastal winter rainfall, frost free
Google QR Code Generator