Syncarpha ferruginea (Lam.) B.Nord.
Family: Asteraceae
Common names: rusty everlasting (Eng.); verroes-sewejaartjie (Afr.)
Introduction
Syncarpha ferruginea is a small fynbos shrub with felted grey leaves and attractive yellow-brown, everlasting flower heads in spring and summer.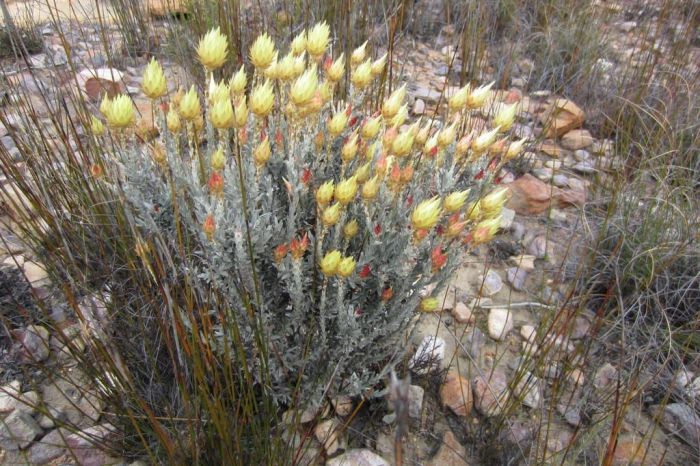 Description
Description
Growing between 200 and 400 mm tall, this branched perennial shrublet has grey-felted stems and ascending (upward-growing) lance-shaped leaves covered with long, dry bristles. The attractive flower heads (capitula) are solitary on short, bracteate peduncles, and are surrounded by several rows of bright yellow-brown, papery, involucral bracts. Each flower head generally contains between 6 and 12 minute florets, all of which are bisexual (male- and female-fertile), making the heads homogamous. Flowering is from late winter to midsummer (Aug. –Feb.).
Conservation Status
Status
Syncarpha ferruginea is assessed as Least Concern (LC) on the Red List of South African plants, a category indicating the species is considered to be at low risk of extinction.
Distribution and habitat
Distribution description
Molecular data supports the housing of Syncarpha ferruginea within a clade (the 'citrine' clade) whose members are widespread across both the western and eastern Cape Floristic Region (CFR) in mid- to high-elevation habitats, typically on Table Mountain Group quartzites. Syncarpha ferruginea is distributed on dry, rocky mountain slopes from the Witteberg, east through the Swartberg Mountains and Uniondale, to Port Elizabeth.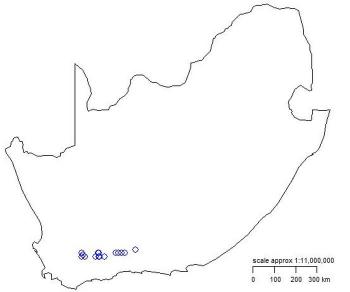 Derivation of name and historical aspects
History
Syncarpha is a genus of 29 species, almost all of which are endemic to the Cape Floristic Region (CFR) of South Africa. Syncarpha is derived from the Greek syn, meaning 'together' or 'united', and carphos, meaning any small dry body. The generic name may refer to the way the dry bracts surround the flower head, producing a cone-like structure. The specific name ferruginea is derived from the Latin ferrugineus, meaning 'rust-coloured', similarly ferreus, meaning 'of' or 'relating to iron', referring to the yellow-brown flower heads.
The English common name, everlasting, and Afrikaans common name, sewejaartjie, meaning 'seven years', are general terms for various species in Helichrysum, Phaenocoma and Syncarpha, whose dry papery involucral bracts retain their colour for many years after the flowers are collected. Note the retention of colour in the bracts on a herbarium specimen from a 1923 collection of the species (H. Andreae 977) below.
The common names may also be a reference to the opening and closing of the involucral bracts in a diurnal rhythm, long after the plants have died. The bracts open during the day when humidity is relatively low and insect pollinators are active, whereas at night when humidity is higher, the bracts close to protect the florets. The passive opening and closing of the bracts in response to diurnal fluctuations in humidity, makes the flowers look alive long after the plants have died, hence the allusion to the flowers being 'everlasting' or 'immortal'.
Ecology
Ecology
Little is known about the ecology of Syncarpha ferruginea. The pappus, a minute structure resembling a shuttlecock and evolutionarily derived from the calyx, is loosely attached to the fruits (cypselae), and may promote dispersal of the mature fruits by wind. The attractive colouring of the flower heads may play a role in attracting animal pollinators, although there are no records as to specific pollinator species.
Uses
Use
The attractive flower heads of some everlasting species, such as those of Syncarpha vestita (formerly Helichrysum vestitum (L.) Willd.), S. eximia and S. recurvata, make them popular for dried wild flower arrangements, and are collected in large quantities from the field. Indeed, harvesting of the attractive 'Cape snow' everlasting Syncarpha vestita was once the basis for an unusual local industry in the southern Cape Districts of Elim and Bredasdorp, to the extent that the species is virtually extinct over a large proportion of its range.
Carl Wilhelm Ludwig Pappe, first government botanist at the Cape and first professor of botany at the South African College, listed multiple species of everlasting as species having medicinal applications in his 1857 Florae capensis medicae prodromus. Syncarpha eximia, S. speciosissimum and S. variegatum were all used in the Western Cape as remedies for jaundice and biliousness, liver disease, croup and diphtheria.
Growing Syncarpha ferruginea
Grow
Despite its attractive foliage and striking yellow-brown flower heads, this species is not commonly propagated or grown in gardens. No information is available on the propagation of S. ferruginea, but several closely-related species are in cultivation as attractive garden plants, and growing indications may be similar. Syncarpha vestita, S. argyropsis and S. eximia (all members of the 'citrine' clade to which S. ferruginea also belongs) can be propagated from cuttings or grown from seed. All 3 species show enhanced germination after treatment with smoke water or smoke discs, a common treatment for fynbos, kwongan and grassland species whose seed germination is stimulated by periodic fire in the wild. Syncarpha recurvata, more distantly related to S. ferruginea, can also be propagated from cuttings, or else from seed, in which case germination is also enhanced by smoke treatment. Syncarpha vestita, S. argyropsis and S. eximia and are all best grown from seed in full sun and sandy, slightly acidic, well-drained soil that does not contain much compost in late summer–autumn.
References
Anon. 1980. Wild flowers of South Africa. Struik Publishers, Cape Town.
Bergh, N.G., Haiden, S.A. & Verboom, G.A. 2015. Molecular phylogeny of the 'Cape snow' genus Syncarpha (Asteraceae: Gnaphalieae) reveals a need for generic re-delimitation. South African Journal of Botany 100: 219–227.
Borowska-Wykret, D., Rypien, A., Dulski, M., Grelowski, M., Wrzalik, R. & Kwiatkowska, D. 2017. Gradient of structural traits drives hygroscopic movements of scarious bracts surrounding Helichrysum bracteatum capitulum. Annals of Botany 119: 1365–1383.
Brown, N.A.C., Prosch, D.S. & Botha, P.A. 1998. Plant derived smoke: an effective pre-treatment for seeds of Syncarpha and Rhodocoma and potentially for many other Fynbos species. South African Journal of Botany 64(1): 90–92.
Cunningham, A.B. & Davis, G.W. 2003. Human use of plants. In R.M. Cowling, D.M. Richardson & S.M. Pierce, Vegetation of southern Africa. Cambridge University Press, Cambridge. Pp. 474–506.
Foden, W. & Potter, L. 2005. Syncarpha ferruginea (Lam.) B.Nord. National Assessment: Red List of South African plants version 2017.1. Accessed on 2019/11/26.
Goldblatt, P. & Manning, J. 2000. Cape Plants. A conspectus of the Cape flora of South Africa. Strelitzia 9. National Botanical Institute, Pretoria & Missouri Botanical Garden, Missouri.
Jackson, B.D. 1928. A glossary of botanic terms with their derivation and accent. Lippincott Company, London.
Manning, J. 2007. Field guide to Fynbos. Struik Publishers, Cape Town.
Manning, J. & Goldblatt, P. 2012. Plants of the Greater Cape Floristic Region 1: the Core Cape Flora. Strelitzia 29. South African National Biodiversity Institute, Pretoria.
Nordenstam, B. 1989. A synopsis of the genus Syncarpha (Compositae–Gnaphalieae). Compositae Newsletter 17: 2–6.
Pappe, C.W.L. 1857. Floræ capensis medicæ prodromus, or, an enumeration of South African plants used as remedies by the colonists of the Cape of Good Hope. 2nd ed. W. Britain, Cape Town.
Stearn, W.T. 1966. Botanical Latin. Thomas Nelson Printers, London and Edinburgh.
Vardien, W. 2008. Syncarpha vestita (L.) B.Nord. (Asteraceae). PlantZAfrica. Online. http://pza.sanbi.org/syncarpha-eximia
Willis, J.C. 1951. A dictionary of the flowering plants and ferns. 6th ed. Cambridge University Press, Cambridge.
Credits
Zaynab Shaik
Compton Herbarium
January 2020
Acknowledgements: the author gives special thanks to Roger Oliver for providing useful information regarding the growing indications for Syncarpha.
Plant Attributes:
Plant Type: Shrub
SA Distribution: Eastern Cape, Western Cape
Soil type: Sandy
Flowering season: Spring, Early Summer, Winter
PH: Acid
Flower colour: Brown, Yellow
Aspect: Full Sun
Gardening skill: Challenging
Special Features:
Drought resistant
Horticultural zones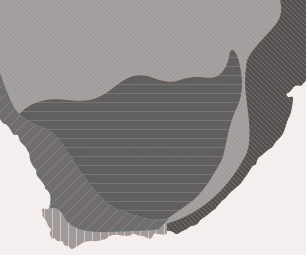 Zone 2 Coastal winter rainfall, frost free
Zone 3 Winter rainfall Karoo, light frost
Google QR Code Generator