Syncolostemon canescens (Gürke) D.F.Otieno
Family: Lamiaceae
Common names: coconut-scented sagebush, grey-haired sagebush
Introduction
A small, aromatic perennial, with dainty, purplish pink, summer flowers and leaves that have a strong and unusual fruity, coconutty scent; a 'must-have' in a fragrant garden.
Description
Description
Syncolostemon canescens is an attractive, herbaceous perennial, 250–600 mm tall, with strongly aromatic foliage. Woody based stems, covered in long, greyish hairs, grow upright, branching near the base, with longest in the middle and shortest near the edge, which gives the plant a naturally rounded habit. Leaves are opposite, linear to lanceolate, 25–55 × 3–15 mm, with a short petiole, and short grey hairs on both surfaces, varying from densely to sparsely covered, giving the foliage a rough texture, which is enhanced by the finely to coarsely toothed margin.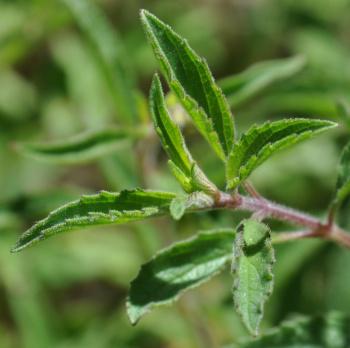 The inflorescence is 70–250 mm long, standing well above the foliage, made up of many, small, white to mauve to purplish, tubular flowers, presented in verticils (rings) of 4–6 flowers. The floral bracts are small, 3 × 2 mm, and drop soon after flowering. The corolla is 13–15 mm long, and the stamens protrude well beyond the flower tube. Flowering time is mid-summer to autumn (December to April). Fruit is a small, black nutlet. The fruits often ripen on the plant, nestled within each persistent calyx long after the flower has dried up and dropped off.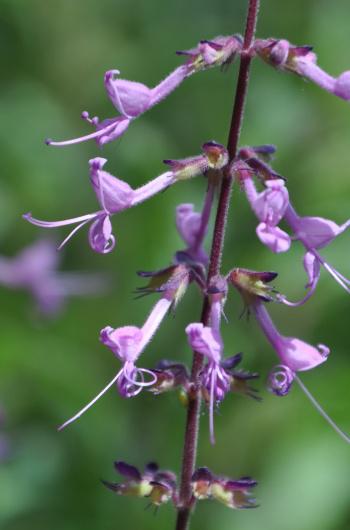 Conservation Status
Status
Least Concern (LC). Syncolostemon canescens is not threatened.
Distribution and habitat
Distribution description
Syncolostemon canescens occurs from the Mahikeng region in the North West, across Limpopo and Gauteng to Mpumalanga and KwaZulu-Natal. It also occurs in northern Namibia, Botswana, Angola, Zimbabwe and Swaziland, and probably also in Mozambique. It grows among rocks in open woodland, marginal grassland and open places, and along watercourses in semi-arid woodland.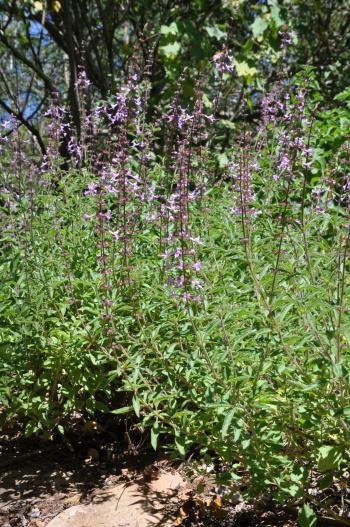 Derivation of name and historical aspects
History
The name Syncolostemon is derived from the Greek words syn-, meaning 'united', kolos, 'curtailed' or 'stunted, and stemon, 'pillar' or 'stamen', and refers to the lower pair of stamens that are typically fused and joined to the flower tube. This species is named for the grey hairs on the stems and leaves, and that give the plants a greyish look, canescens meaning 'greyed'.
This species was previously classified in the genus Hemizygia which is no longer a recognised genus, because genetic analyses showed Hemizygia and Syncolostemon to be monophyletic (descended from the same common ancestor). Therefore, the 2 genera were merged under the older name, Syncolostemon, and all hemizygias are now Syncolostemon. The current description of S. canescens includes Hemizygia canescens and H. petrensis.
The genus Syncolostemon contains about 45 species, found mainly in Africa, with 38 species in southern Africa, one in Madagascar and one in India. Belonging to the Lamiaceae or sage family, which includes many important herbs, such as mint and sage. Many members of this family are highly aromatic and have the identifying feature of square stems. Noteworthy members that belong to this family are Leonotis, Mentha, Ocimum, Plectranthus and Salvia.
Ecology
Ecology
The aromatic oils in the leaves act as a chemical defence against plant-eating insects or animals, making them unpalatable or difficult to digest.
The soft herbaceous growth is killed by frost, but the woody base of the plant generally survives and it resprouts in the spring. It is similarly able to survive fast-moving grass fires.
The tubular flowers are pollinated by insects, probably by long-tongued flies.
Uses
Use
It does not appear that Syncolostemon canescens is used in traditional medicine. It is an attractive garden plant with strongly aromatic foliage, and can be used in potpourri.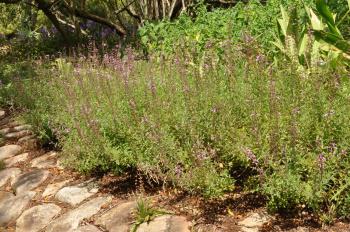 Growing Syncolostemon canescens
Grow
Syncolostemon canescens needs a sunny or slightly shaded position. It can tolerate some wind, but generally prefers a more sheltered bed in the garden. It performs best in fertile, well-drained soil, with water during its spring and summer growing season, and performs well in the winter-rainfall region, as long as it is watered adequately in summer and does not get waterlogged in winter. Prune them back hard after flowering to keep them bushy and to promote flowering. Apply a compost mulch in spring to nourish the plant when it resprouts and give an application of 2:3:2 or similarly balanced fertilizer, during the summer.
It is well suited to grassland gardens and rockeries. Mass plant for best effect, and it works well as an edging plant. Also suitable for containers. For gardeners looking for aromatic and fragrant plants, it is a 'must-have' plant for its unusual fruity, coconut-scented, aromatic foliage. Syncolostemons are good filler plants in a colourful, mixed herbaceous bed, shown to best advantage if grouped in threes or fives and placed more to the centre of the bed so the plant's front, can hide their woody bases. Both the sprigs of pink flowers and purpley bronze, add attractive detail to a border design.
Syncolostemon canescens is seldom troubled by any pests or diseases, most likely afforded natural protection by the strongly fragrant oils occurring in the plant's leaves and stems.
During late summer, Syncolostemon canescens can be propagated by semi-hardwood cuttings. The soft, green spring growth should have started to turn a light brown colour, but not yet a dark brown and the stems will still able to bend slightly when tested, without snapping. The cutting taken should have a semi-soft greenish tip and a semi-hard light brown base — this balance between the 2 stages of maturity will ensure best success of rooting. Leave the growth tips intact and at least 2 nodes of leaves present, but strip off the foliage of the last 2 to 3 nodes. Dip the cut stem end into a rooting hormone, such as Seradix 2, and place in a suitable rooting medium that remains damp while draining freely and is able to hold the cutting upright. A mixture of finely milled bark and peat with river sand, usually works well. Rooting can take up to 8 weeks. Once there is a significant amount of root, pot up and keep in semi-shade until the plant shows new growth, then plant out once it has established itself in the bag. If you choose to wait until spring before planting out into the garden, be cautious to not overwater the plants in winter.
Seed collected from the plant after flowering and before pruning, can be kept through winter, then sown in spring into a sowing medium. As the seeds are quite small, cover them with only a thin layer of sowing medium and keep moist. Keep seed trays somewhere warm, but out of direct sunlight. Seed should germinate in 3–4 weeks. The seedlings can be potted up as soon as their first pair of true leaves are well developed. Grow on, and plant out into the garden once well established.
References
Fabian, A. & Germishuizen, G. 1997. Wild flowers of northern South Africa. Fernwood Press, Vlaeberg.
Foden, W. & Potter, L. 2005. Syncolostemon canescens (Gürke) D.F.Otieno. National Assessment: Red List of South African plants version 2015.1. Accessed on 2017/02/13.
Hyde, M.A., Wursten, B.T., Ballings, P. & Coates Palgrave, M. (2017). Flora of Zimbabwe: Species information: Syncolostemon canescens. http://www.zimbabweflora.co.zw/speciesdata/species.php?species_id=150250, retrieved 13 February 2017.
Jackson, W.P.U. 1990. Origins and meanings of names of South African plant genera. University of Cape Town.
Leistner, O.A. (ed.). 2000. Seed plants of southern Africa: families and genera. Strelitzia 10. National Botanical Institute, Pretoria.
Otieno, D.F., Balkwill, K., Paton, A.J. & Savolainen, V. 2006. A reassessment of Hemizygia and Syncolostemon (Ocimeae—Lamiaceae). Taxon 55(4): 914–958.
Ford, C.M. & Johnson, S.D. 2008. Floral traits, pollinators and breeding systems in Syncolostemon (Lamiaceae). Plant Systematics and Evolution 275(3): 257–264.
Flora of southern Africa: 7359 29. Syncolostemon. accessed 13 Feb 2017 via POSA http://posa.sanbi.org/flora/results_browse.php?src=FloraSA&taxon=genno=1704.
Credits
Cherise Viljoen and Alice Notten
Kirstenbosch National Botanical Garden
March 2017
Plant Attributes:
Plant Type: Perennial
SA Distribution: Gauteng, KwaZulu-Natal, Limpopo, Mpumalanga, North West
Soil type: Sandy, Loam
Flowering season: Late Summer, Autumn
PH: Acid, Neutral
Flower colour: White, Pink, Mauve/Lilac
Aspect: Full Sun, Morning Sun (Semi Shade), Afternoon Sun (Semi Shade)
Gardening skill: Average
Special Features:
Fragrant
Good potplant
Horticultural zones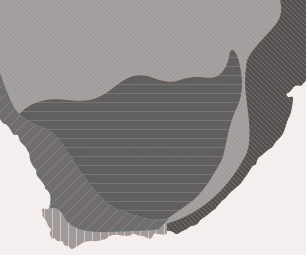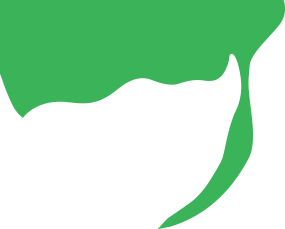 Zone 1 Coastal summer rainfall, frost free
Zone 2 Coastal winter rainfall, frost free
Zone 3 Winter rainfall Karoo, light frost
Zone 4 Summer rainfall Karoo and Highveld, Frost in winter
Zone 5 Bushveld summer rainfall, Light frost
Google QR Code Generator