Thilachium africanum Lour.
Family: Capparaceae
Common names: cucumber bush (Eng.); komkommerbos (Afr.); nkobva (Tso.); isikonke (Zul.)
Introduction
An awesome small tree with the most attractive flowers.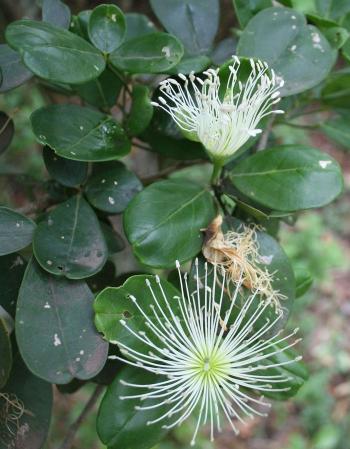 Description
Description
Thilachium africanum is a deciduous woody shrub or small tree, which grows up to 4 m tall. The main stem is greyish brown; young branch tips are rough and branches are covered with lenticels. The leaves are compound, trifoliolate, occasionally simple, alternate, elliptic to obovate, 30–90 × 10–45 mm, dark green, leathery, hairless, bristle tipped; apex tapering or rounded; margin entire and rolled under. The petiole is rough to the touch (scabrid) and up to 60 mm long.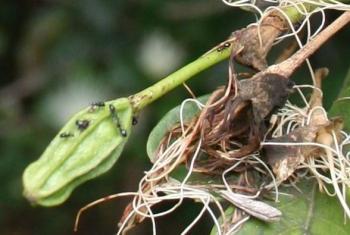 The flowers are large, without petals, with numerous white stamens, up to 45 mm long, that turn pink as they age. Flowers are borne in small clusters in spring (Aug. –Oct.). As the flower opens, the calyx splits in half horizontally with one half remaining like a cap attached on one side. The fruit is green, purple when ripe, and looks like a cucumber, hence the common name, with 12 longitudinal ridges, up to 60 mm long and 25–30 mm wide, borne in spring and early summer (Oct. –Dec.). 
Conservation Status
Status
Distribution and habitat
Distribution description
Thilachium africanum grows in savanna, woodland, thicket and dry bushveld, in Limpopo, northern KwaZulu-Natal and Mpumalanga Provinces in South Africa, and in the Kingdom of eSwatini (formerly Swaziland), Mozambique and northwards to Kenya, and in Madagascar.
Derivation of name and historical aspects
History
The genus name Thilachium is derived from a Greek word, which means 'pouch' or 'bag', referring to the fruit or calyx. The species name africanum means 'from Africa'.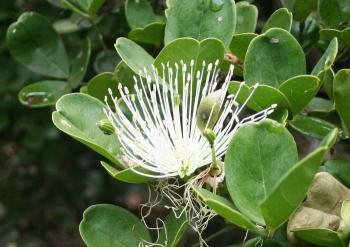 Ecology
Ecology
Bees and butterflies are the order of the day during the flowering season. Ants are also observed exploring the fruits. Monkeys eat the fruits and the leaves are heavily browsed.
Uses
Use
Thilachium africanum wood is used for making handles for different tools and spoons. The wood is also used for fuel. Leaves and roots are used in traditional medicine. A paste made out of root powder is applied to treat snake bite and headache. The roots are usually collected during the rainy season.
Growing Thilachium africanum
Grow
This plant can be easily propagated by cuttings, and by seeds. Seeds are collected, prepared and sown in late summer, between February and early March. Seeds must be peeled out of the fruits and sown immediately, while still fresh. Sow them in a seed tray, in a well-drained mixture of 3 parts sand and 1 part potting soil. Place the trays on a raised bench under 30% shade netting and keep moist. Expect germination between 7 to 10 days. It is recommended to treat the seeds with a fungicide.
Thilachium africanum cuttings are slow to root, slower than seed-grown plants. Take cuttings from early spring to late summer, and they must be planted while still fresh. Use a rooting hormone and place the cuttings in a misted greenhouse.
References
Boon, R. 2010. Pooley's trees of eastern South Africa, a complete guide. Flora & Fauna Publications Trust, Durban.
Burrows, J., Burrows, S., Lotter, M. & Schmidt, E. 2018. Trees and shrubs of Mozambique. Print Matters Heritage
Drummond, R.B. 1975. A list of trees, shrubs and woody climbers indigenous or naturalised in Rhodesia. Kirkia 10(1): 238.
Flora of Zimbabwe. Thilachium africanum https://www.zimbabweflora.co.zw/speciesdata/species.php?species_id=124710 Retrieved 12 February 2019.
Raimondo, D. et al. 2009. Red list of South African plants. Strelitzia 25. SANBI (South African National Biodiversity Institute), Pretoria.
Schmidt, E., Lötter, M. & McCleland, W. 2002. Trees and shrubs of Mpumalanga and Kruger National Park. Jacana, Johannesburg.
Van Wyk, P. 1972. Trees of the Kruger National Park. Purnell, Cape Town.
Wild, H. 1960. Capparaceae. Flora zambesiaca 1 (1): 213-215. AS Thilachium africanum.
Credits
Sephatle Evans Molekoa
Lowveld National Botanical Garden
April 2019
Plant Attributes:
Plant Type: Shrub, Tree
SA Distribution: KwaZulu-Natal, Limpopo, Mpumalanga
Soil type: Sandy, Loam
Flowering season: Spring, Early Summer
PH:
Flower colour: White
Aspect: Full Sun, Morning Sun (Semi Shade), Afternoon Sun (Semi Shade)
Gardening skill: Easy
Special Features:
Fragrant
Medical plant
Useful plant
Horticultural zones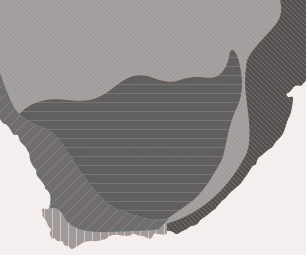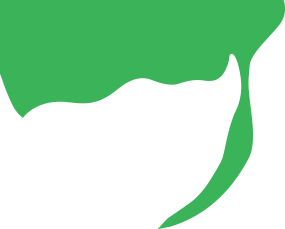 Zone 1 Coastal summer rainfall, frost free
Zone 5 Bushveld summer rainfall, Light frost
Google QR Code Generator