Trachyandra falcata (L.f.) Kunth
Family: Asphodelaceae
Common names: Namaqua wild cabbage (Eng.); namakwakool, veldkool, bokkool (Afr.)
Introduction
Trachyandra falcata is a fast-growing, summer-dormant, perennial geophyte, easily propagated from seed. The young inflorescences are harvested in winter and cooked as a delicious vegetable. The 2–4, sickle-shaped, bluish green leaves grow in opposite rows. It is endemic to the semi-arid regions of the Western and Northern Cape.
Description
Description
Summer-dormant geophyte with an indistinct shallow tuber; the roots greyish white, horizontally spreading and 4–6 mm in diameter. The basal plate is about 12–17 mm in diameter, grey-white, subtended by transparent, brownish, dried bracts (tunics).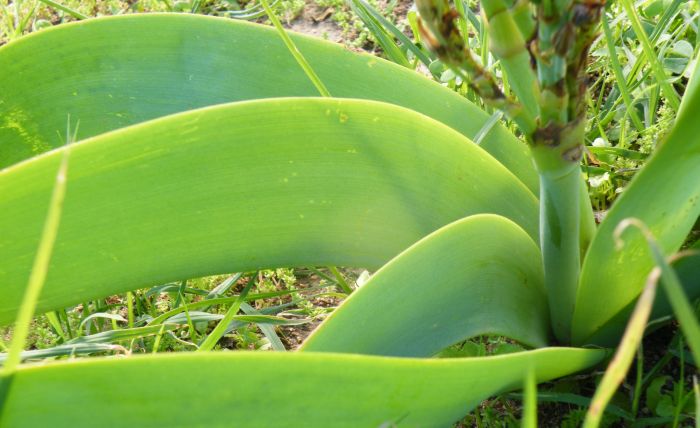 The 2–4 leaves grow in opposite rows (distichous) and are ascending, spreading, sickle-shaped (falcate), spear-shaped (lanceolate) tapering, 250–600 mm long, 15–20 mm broad at the base and widening to 20–40 mm and gradually tapering to the apex, fleshy, the surface glaucous, bluish green, smooth to hairy, indistinctly lineate; margin entire; the apex acute.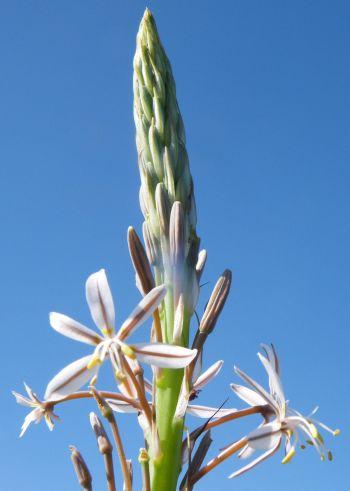 The inflorescence is about 200–400 mm long and almost rounded (subterete); the inflorescence stalk (scape) is 7–8 mm in diameter at the base, up to 160 mm long, solitary or dividing in the upper portion (up to 3 branches) and subtended by large, leafy, greenish, semi-translucent bracts fused at the base and 15 mm long, acute at the apices; raceme 60–120 mm long. The flowers, with pedicles 10 mm long and 0.7 mm in diameter, are each subtended by a large papery and translucent, ovate or lanceolate, membranous bract, 15 × 7 mm, acuminate and brownish at their apices; tepals 12.0 × 2.5–3.0 mm, whitish translucent and with a brownish midrib, and each tepal has a distinct yellow blotch close to their base; ovary green, 1.5 mm long, 1 mm broad, with a grooved style, 9 mm long, white; the stigma minute. Capsule oblong, obovoid, 19–13 × 4 mm, on ascending pedicles, lengthening to 20–23 mm long when ripe, 2.0 × 1.5 mm, grey, faintly blackish, mottled surface smooth. Flowering time is midwinter (July) to spring (October).
Conservation Status
Status
Trachyandra falcata is still commonly found in the western parts of the Succulent Karoo in South Africa and Namibia. It is especially common along the west coast of South Africa. It is considered not threatened and has the status of  Least Concern (LC) in the Red List of South African plants.
Distribution and habitat
Distribution description
Widespread from Aus in southern Namibia to Langebaan and Worcester in the southern part of the Western Cape, in semi-arid regions. It grows on flats and slopes, often among granite rocks. Especially common along the coast of Namaqualand in Succulent Karoo, and also in Strandveld. This region receives frontal winter rainfall of about 250–400 mm per annum and from April to October (growing season). Summers are long, dry and windy when the plant is dormant, thus a summer evader remaining as a tuber, only to appear in autumn.
The geology consists mainly of sand and gravel from local granite or derived from the mineral-poor quarzitic sandstone of the Cape Supergroup.
Derivation of name and historical aspects
History
Trachyandra falcata was named by Carl Linnaeus the younger in Supplementum Plantarum systematis vegetabilium in 1781. The genus name Trachyandra, is derived from the Greek trachys, meaning 'rough' and andros, meaning 'male', and pertains to the hairy stamens (Clarke & Charters 2016). The specific epithet falcata pertains to its distinctly sickle-shaped leaves.
There are about 50 species in the genus Trachyandra, mostly with succulent leaves stems or roots, and most of which are endemic to the winter rainfall region of southern Africa and become dormant during the long, dry, summer months. They belong to the Asphodelaceae and are related to Bulbine, red-hot-pokers (Kniphofia) and Aloe.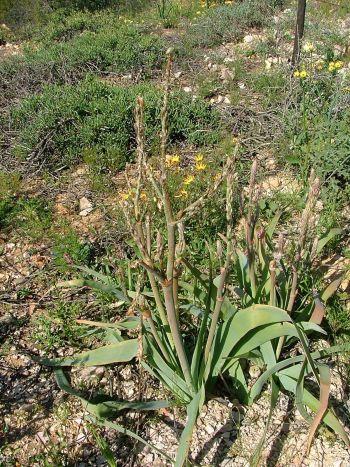 Ecology
Ecology
Dormant during the long, dry, hot windy summers. The veldkool tubers sprout in autumn when the leaves appear. Plants benefit from growing in the winter when moisture is available, and the cooler temperatures result in less evaporation. Flowers appears from midwinter to early spring. The inflorescence is widely spreading, the small white flowers are pollinated by insects. The large leaves grow in opposite rows, mostly vertically presented, which also helps with less exposure to the sun.
The open flowers are pollinated by bees. The flowers are protandric, which means that the stamens ripen first. Only after the stamens ripen, do the stigmas reach maturity, thus promoting cross pollination.
This species grows in Succulent Karoo and Strandveld (Mucina & Rutherford, 2006), together with shrubs such as Zygophyllum morgsana and Z. flexuosum, Searsia lucida, S. glauca and S. laevigata and Euclea racemosa. Associated succulents include Cotyledon orbiculata, Tylecodon grandiflora and T. paniculatus, Crassula nudicaulis and C. expansa, Euphorbia tuberculata, E. mauritanica and E. burmannii, Jordaaniella dubia and various shrubby mesembs.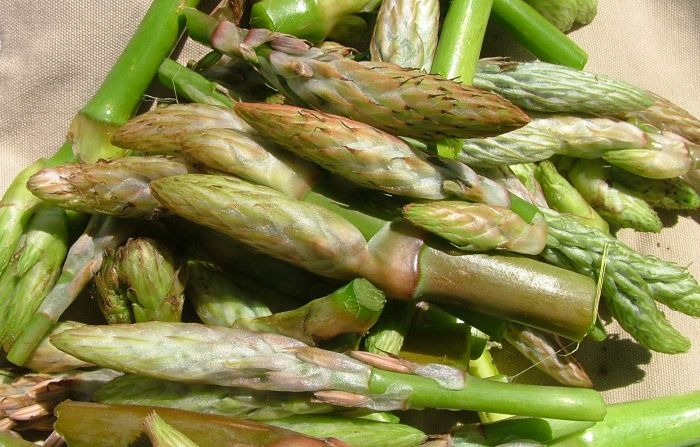 Uses
Use
A very useful, edible plant in season, eaten by many people in its distribution range. In former times, the local Koi people ate the young fleshy inflorescence and cooked them in the same manner as Asparagus shoots or Aponogeton fruits, or prepared them in a stew. Collect the young fleshy inflorescence and boil with ample salt and add to meat dishes. The common name veldkool (meaning cabbage of the field) is widely used.
Growing Trachyandra falcata
Grow
Trachyandra falcata is an easily grown geophyte, best suited for coastal and other winter rainfall and Mediterranean type climates, as well as difficult, windy, seafront gardens. Best grown in an open, well aerated and sunny spot. However, away from Mediterranean type climates, it would be best for containers grown in a greenhouse or windowsill, where it can be protected from excessive rain or low temperatures. It is well-suited for strandveld, fynbos and Succulent Karoo gardens (Van Jaarsveld 2010).
Harvest the seed in spring and early summer when the capsules are starting to open. Store in a paper bag to sow in autumn. Sow in shallow trays, when it is becoming cooler, in autumn. Cover with a thin layer of sand (1–2 mm thick) and keep moist. Germination should be within 3 weeks (when seed is viable). Plant out in beds or containers when large enough to handle. Plants should flower from the second year.
References
Clarke, H. & Charters, M. 2016. The illustrated dictionary of southern African plant names. Flora & Fauna Publications Trust, Jacana, Johannesburg.
Mucina, L. & Rutherford, M.C. (eds) 2006. The vegetation of South Africa, Lesotho and Swaziland. Strelitzia 19. South African National Biodiversity Institute, Pretoria.
Van Jaarsveld, E.J. 2010. Water wise gardening. Struik, Cape Town.
Credits
Ernst van Jaarsveld
Kirstenbosch National Botanical Garden (Retired 2015)
Babylonstoren Farm
Extraordinary senior lecturer and researcher,
Department of Biodiversity and Conservation, University of the Western Cape
May 2019
Plant Attributes:
Plant Type: Bulb, Succulent
SA Distribution: Northern Cape, Western Cape
Soil type: Sandy, Loam
Flowering season: Spring, Winter
PH: Acid, Alkaline, Neutral
Flower colour: White
Aspect: Full Sun
Gardening skill: Easy
Special Features:
Drought resistant
Edible plant
Feeds honeybees
Horticultural zones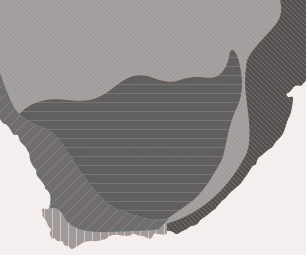 Zone 2 Coastal winter rainfall, frost free
Zone 3 Winter rainfall Karoo, light frost
Google QR Code Generator