Tylecodon ellaphieae Van Jaarsv.
Family: Crassulaceae
Common names: Rosyntjieberg-nenta (Afr.)
Introduction
Tylecodon ellaphieae is one of 46 species in the genus Tylecodon, all endemic to the winter rainfall region of South Africa and Namibia. They belong to the stonecrop family (Crassulaceae) and are closely related to Cotyledon, the pig's ear genus.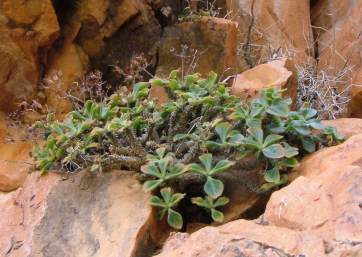 Description
Description
Compact, solitary, summer-deciduous, cluster-forming plant, with a swollen base (caudex) up to 50 mm in diameter, with peeling, yellowish grey, flakey bark. Two to eight short, erect stems, 20-50 mm long, are covered with spine-tipped and blunt tubercles known as phyllopodia. The stems are grey-green, about 8 mm in diameter. The phyllopodia are green, and with minute stiff hairs (strigosa). The roots are fibrous.
The leaves are soft, fleshy, ascending and oblanceolate to egg-shaped and up to 70 x 70 mm. Each leaf has a short petiole, and the blade is decurrent on the petiole with a wedge-shaped base. Glandular hairs cover the leaf surface. The plant also has rudimentary modified leaves which are spine-tipped, up to 3 mm long, persistent and curving outwards.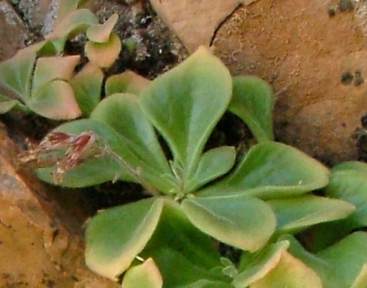 The inflorescence is erect, flat-topped and densely branched 60-120 mm high. The peduncle is also glandular-hairy. The tubular flowers are about 15 mm long, 4 mm wide at the base, bearing white lobes on the inside. Seeds are very fine and carried in follicles, enclosed by the dry, persistent flowers.
Conservation Status
Status
Although Tylecodon ellaphieae is confined to the Rosyntjiesberg in the Richtersveld National Park, it is locally abundant and well protected.
Distribution and habitat
Distribution description
Tylecodon ellaphieae is confined to the Rosyntiesberg in the northeastern Richtersveld. It grows on sheer quartzitic sandstone cliffs, 500 to 1200 m high The plants occur in crevices and ledges and shady rock veins on southern aspects.
Temperature is warm to high during summers (23º C daily, 11º C at night) but mild to warm during winters. Winters are cooler and frost is absent. Rainfall is mainly during winter and autumn ranging from 50-150 mm per annum (mainly frontal cyclonic winter rain, and thundershowers during autumn). Regular fog provides extra moisture.
The habitat consists of Rosyntjiesberg Succulent Shrubland of the Richtersveld Bioregion which is part of the Succulent Karoo Biome (Mucina et al. 2005). T. ellaphieae shares its cliff habitat with other plants such as Aloe meyeri, Conophytum taylorianum subsp. rosynense, Othonna cremnophila and Trachyandra aridimontana.
Derivation of name and historical aspects
History
Tylecodon ellaphieae was named by the author in 1989. The specific epithet ellaphieae commemorates Ellaphie Ward-Hilhorst (1920-1994), the well-known botanical artist and illustrator of Pelargonium, Haemanthus, Gasteria and many other plant species.
Prior to 1978, all tylecodons were regarded as cotyledons. Helmut Toelken created the genus Tylecodon to accommodate all the Cotyledon species where the leaves are spirally arranged and drop in summer when their flowers appear.
Ecology
Ecology
Tylecodon ellaphieae flowers during January and February, is pollinated by insects and its seeds are wind dispersed.
Uses
Use
No uses have been recorded for the plants.
Growing Tylecodon ellaphieae
Grow
Tylecodon ellaphieae is a dwarf species bearing beautiful white flowers during midsummer and, as with many of the dwarf species, is best grown as a container or specimen plant under greenhouse conditions.
Tylecodon ellaphieae is easily propagated from stem cuttings or seed. It grows relatively fast, and is a long-lived species. The stem cuttings are is best taken during the autumn and should first be allowed to dry and heal on a cool window sill. The basal part should preferably be treated with a fungicide. Plant the cuttings in an erect position in clean river sand. Rooting is rapid and young plants can be planted in small individual containers.
Seed should be sown during autumn when it is cooler in a well-drained soil and protected from full sun. The seeds are very fine and should be spread on a sandy or gravelly mixture. It is best to water through capillary action and a mild, liquid fertilizer applied. Once large enough to handle they can be planted out. The soil should be sandy with ample compost.
References
Eggli, U. (ed.). 2003. Illustrated handbook of succulent plants. Crassulaceae. Springer.
Mucina, L, Rutherford, M.C. & Powrie, L.W. 2006. Vegetation Map of South Africa, Lesotho and Swaziland. National Biodiversity Institute.
Van Jaarsveld, E.J. & Kutnik, D. 2004. Cotyledon and Tylecodon. Umdaus Press, Hatfield, Pretoria.
Van Jaarsveld, E.J. & Ward, E. 1989. Tylecodon ellaphieae. The Flowering Plants of Africa 50: t. 1983.
Credits
Ernst van Jaarsveld
Kirstenboch National Botanical Garden
January 2007
Plant Attributes:
Plant Type: Succulent
SA Distribution: Northern Cape
Soil type: Sandy
Flowering season: Late Summer
PH: Acid
Flower colour: White
Aspect: Morning Sun (Semi Shade)
Gardening skill: Challenging
Special Features:
Drought resistant
Horticultural zones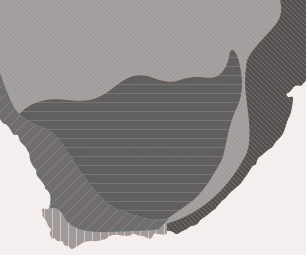 Zone 2 Coastal winter rainfall, frost free
Zone 3 Winter rainfall Karoo, light frost
Google QR Code Generator