Ursinia anthemoides subsp. anthemoides
Ursinia anthemoides (L.) Poir. subsp. anthemoides
Family: Asteraceae
Common names: mountain marigold ( Eng. ); bergmagriet, ringmagriet (Afr.)
Introduction
Ursinia anthemoides, with its bright yellow flowers, catches the eye wherever it is planted. In spring the plants make a mass display, especially in Niewoudtville in Namaqualand.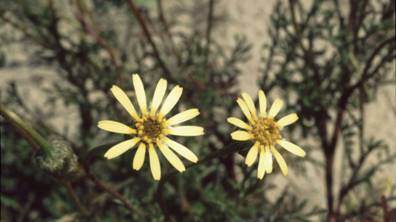 Description
Description
Ursinia anthemoides is an annual herb, from 0.05 to 0.5 m high, with finely divided leaves. The flowerheads are solitary with a long stalk. The ray florets are yellow, coppery below. The involucral bracts are hairy with brown margins: outer ones acute (pointed); middle ones oblong; inner ones have round, apical appendages.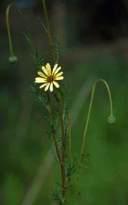 The fruits are ± 2-3 x ± 0.3-0.4 mm, obconical, ribbed, slightly curved, with glands in between ridges, and a coma of hairs at the base of fruits. The fruits also have 5 ovate, white pappus scales, with a central brown streak. The fruit together with the pappus scales is about 4-6 mm long. Flowering time is from July to November.
Conservation Status
Status
According to the Southern African plant Red Data Lists (Golding 2002) the species is not threatened.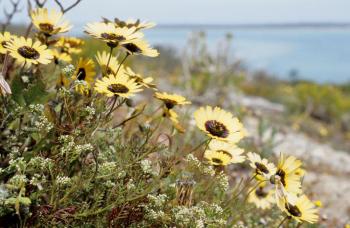 Distribution and habitat
Distribution description
Ursinia has ± 40 species in southern Africa, and one in Ethiopia (U. nana). Some species are introduced in Western Australia (U. anthemoides) and New Zealand but the genus is mostly concentrated in the Western Cape. The genus shows a broad variety of growth forms, from annuals to dwarf shrubs, and also has a broad span of ecological preferences and wide geographical distribution spanning several biomes from semi-desert to mesic grassland.
Ursinia anthemoides subsp. anthemoides is found in Namibia and in South Africa from the Karoo eastwards to Port Elizabeth. The habitats and soils listed on herbarium specimens include dry, sandy and gravel slopes, Table Mountain Sandstone, quartz, limestone, plateau, well-drained loam soil, dwyka tillite and seepage areas along the road. Altitude ranges from 15 to 1 065 m.
Derivation of name and historical aspects
History
Before the publication of the genus Ursinia, all species were described as species of Arctotis by Lessing. This species was first published under Sphenogyne by Robert Brown (1773-1858), the Keeper of Botany at the British Museum. Sphen means a wedge in Greek, and gyne a female, the stigma of the florets in this genus being wedge-shaped. Brown (1887) sank Sphenogyne under Ursinia.
The genus Ursinia was named by Joseph Gaertner (1732-1791), a German physician and botanist, after Johann Heinrich Ursinus of Regensburg (1608-1666), a theologian and author of Arboretum Biblicum.
Prassler (1967) recognized the genus Ursinia with two subgenera: Sphenogyne and Ursinia. According to Stapf (1933) and Prassler (1967), the characters distinguishing the subgenera are as follows;
Sphenogyne:
Palea = tip blunt or toothed
Pappus - in one series
Cypsela - straight or curved in lower part, usually tapering
Basal tuft of hairs -often present
Ursinia
Palea = tip with rounded appendage
Pappus - in two series
Cypsela - bent almost at right angles, much thicker in upper part (pipe-like)
Basal tuft of hairs - absent
Ecology
Ecology
Ursinia anthemoides subsp. anthemoides is pollinated by bees, wasps, butterflies and yellow spiders, the last matching the flowerheads exactly in colour. The fruits have both pappus and hairs, so are easily dispersed by wind.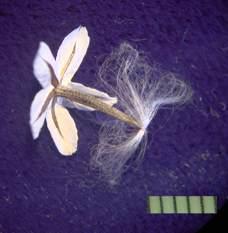 Growing Ursinia anthemoides subsp. anthemoides
Grow
Seed should be sown in March or April in open ground on a calm day, to produce a brilliant display from July to September. The plants should be grown in full sunshine as the flowers do not open properly in a shady place. Germination takes place within seven days, depending on the weather. The young seedlings should be watered copiously and the soil kept damp, but not waterlogged, all winter.
They do not like a lot of wind. In places with heavy winter rainfall, the plants must be given well-drained soil, preferably on a slope. In dry inland areas, they should be watered regularly every day until the flowering period. The plants should be set close together in the beds for best effect.
Other annual species that can be grown with U. anthemoides for spring display are U. calenduliflora (bergmagriet ), U. speciosa (Namaqua ursinia), U. chrysanthemoides and Dimorphotheca species.
References
Bailey, L.H. 1954. Manual of cultivated plants: most commonly grown in the continental United States and Canada. The Macmillan Company, New York.
Bremer, K. 1994. Asteraceae: cladistics and classification. Timber Press, Portland, Oregon, USA.
Bremer, K. & Humphries, C. 1993. Generic monograph of the Asteraceae-Anthemideae. Bulletin of the Natural History Museum, London (Bot.) 23: 71-177.
Brown, N.E. 1887. Plants new or noteworthy. The Gardeners' Chronicle 1: 670.
De Candolle, A.P. 1836. Prodromus 5: 680-690.
Eliovson, S. 1955. South African flowers for gardens: how to grow them, identify them and use them for effect. Bulbs, annuals, perennials, shrubs, trees, succulents. Howard Timmins, Cape Town.
Germishuizen, G. & Meyer, N.L. (eds). 2003. Plants of southern Africa : an annotated checklist. Strelitzia 14. National Botanical Institute, Pretoria.
Golding, J.S. (ed.). 2002. Southern African plant Red Data Lists. Southern African Botanical Diversity Network Report No. 14.
Harvey, W.H. & Sonder, O.T. 1865. Flora capensis III. Rubiaceae to Campanulaceae. Lovell Reeve, London.
Prassler, M. 1967. Revision der gattung Ursinia. Mitteilungen der Botanischen Staatssammlung, München 6: 363-478.
Stapf, O. 1933. Sphenogyne versicolor. Curtis's Botanical Magazine 156: t. 9317.
Van der Spuy, U. 1971. Wild flowers of South Africa for the garden. Hugh Keartland, Johannesburg.
Credits
N. Swelankomo
National Herbarium, Pretoria
December 2006
Plant Attributes:
Plant Type: Bi/Annual
SA Distribution: Eastern Cape, Northern Cape, Western Cape
Soil type: Sandy, Loam
Flowering season: Spring, Early Summer, Winter
PH:
Flower colour: Yellow
Aspect: Full Sun
Gardening skill: Easy
Special Features:
Attracts butterflies
Horticultural zones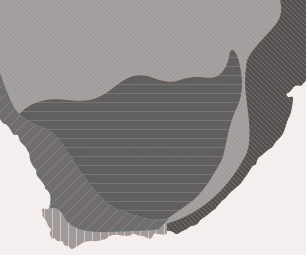 Zone 1 Coastal summer rainfall, frost free
Zone 2 Coastal winter rainfall, frost free
Zone 3 Winter rainfall Karoo, light frost
Google QR Code Generator