Ursinia nana DC.
Family: Asteraceae
Common names: small ursinia, yellow margaret (Eng.); kleinbergmargriet, geelmagriet (Afr.); sehalikane (SS)
Introduction
An attractive, spreading, annual herb with yellow flowers, which blooms in the spring to early summer period. With its spreading habit and fine foliage, this species can also be used in hanging baskets or containers.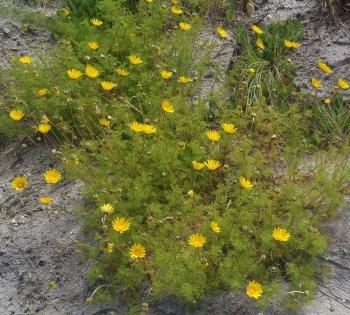 Description
Description
Ursinia nana is a member of the sunflower family (Asteraceae) which grows to a height of about 200 mm and with a spread of 150 mm. The growth rate is fast, with a longevity of 5 months. Stems are wiry. Roots are non-invasive. The leaves are bunched, feathery, deeply laciniate (irregularly and finely cut), finely divided into narrow segments, 15–50 mm long, hairless.
It bears a single yellow, radiate (daisy-like) flowerhead, 10–35 mm in diameter, on a short peduncle, at the tip of a long, leafless stem, about 120 mm long, the tip drooping when still in bud. The palaea (bracts at the base of the disc florets) are boat-shaped. The involucral bracts, around the base of the flowerhead, are rounded, with wide papery tips, often with dark crescent marks at the apex.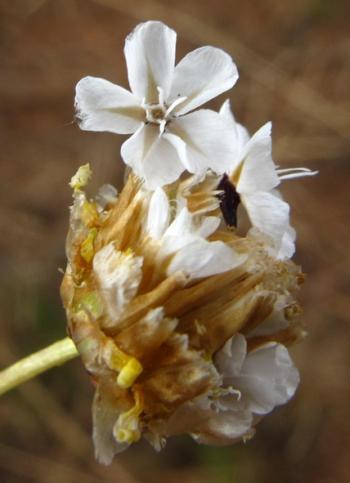 The fruit has a biseriate (in 2 rows) pappus, with 5, broad, white, petal-like scales and 5 bristles at the tip. The fruits ripen over a period of time.
The flowering period takes about 2 months, from spring to early summer (Aug. –Oct.).
Conservation Status
Status
Distribution and habitat
Distribution description
Ursinia nana grows on gravel slopes and flats and occurs in the drier parts of southern Africa, from Namaqualand in the Northern Cape to Mpumalanga. According to Prassler 1967, Ursinia nana is also found in Ethiopia.
This species is an opportunistic annual that can be weedy on agricultural and disturbed lands. It was introduced and is becoming naturalized in parts of Spain, Australia and New Zealand.
The genus Ursinia includes about 40 species which occur in southern Africa, where they are widely distributed in certain areas of South Africa, Namibia, Botswana and Mozambique, and this one species occurs as far north as Ethiopia. In South Africa ursinias occur mainly in the Northern, Western and Eastern Cape.
Derivation of name and historical aspects
History
Before the publication of the genus Ursinia, Lessing first described most of the current taxa of Ursinia as Arctotis (Arctotideae, Asteraceae). The genus Ursinia was defined and named by Joseph Gaertner (1732–1791), which resulted in some of the species of Arctotis being reclassified as Ursinia.
The genus Ursinia was named in honour of Johannes Heinrich Ursinus, 1608–1667, theologian and author of Arboretum Biblicum. The species name nana, means 'small', which describes the natural growth size and flower size.
Ecology
Ecology
This species is an opportunistic annual, with wind-dispersed seeds that germinate fast when conditions are suitable, and it grows, flowers and sets seed in a few months, allowing it to survive the dry season and spread into new areas relatively quickly. It is slightly succulent and can tolerate drought and windy conditions, which has enabled it to colonize drier areas.
Its flowerheads are visited by butterflies such as Lycaena phaleas, including the bees, such as (Exoprosopa sp. and Heriades sp.).  
The fruits are consumed by ants, such as Messor barbarus, with the result that some of the fruits are stored within their nests.
Self-incompatibility for these species has not been reported, but it has been reported for very closely related annual species in South African populations of Ursinia cakelifolia.
Uses
Use
No cultural uses have been reported. The species can be used for ornamental purposes, as a bedding plant or container plant, in coastal gardens, water-wise gardens, rockeries and patios.
Growing Ursinia nana
Grow
The optimum sowing time for Ursinia nana is autumn or spring (March and September ). Seeds must be fresh and viable, and can be expected to germinate in about 6 to 8 days. Use a well-drained sowing medium. The medium must be slightly moist before sowing. Depth of sowing must be 1.5 cm. Cover the seeds with fine bark and water. The medium must never dry out completely and never be soaking wet. Watering must be average, to prevent damping off. A high percentage of seeds germinate, without dormancy. Seeds can be transplanted about 4–6 weeks after germination, when the seedlings have developed the second set of true leaves. This species requires a full sun position, in well-drained, sandy, gravel or loam soil.
This species is shown to best effect when planted in groups with other herbaceous perennials and annuals, where their bright yellow flowers combine well with other yellow, orange and pink flowered plants, and makes the bed more attractive. The purpose of planting perennials and annuals together, is to acquire various flowering patterns, flower colours and to attract beneficial insect pollinators. Good companion plants include Cotula duckittiae, Lobelia valida, Ursinia speciosa and U. calenduliflora and Dorotheanus bellidiformis. The background plants to be used can be Selago canescens, Helichrysum cymosum and Felicia echinata, which display some great colours, texture and structure within the flower bed and improve the quality and growth.
References
Briones, J.M. 2009. Ursinia nana (Anthemideae, Asteraceae), an adventive from South Africa which is becoming naturalized in the NE Iberian Peninsula. Collectanea Botanica (Barcelona), 28, pp. 81–94.
Goldblatt, P. & Manning, J. 2000. Cape Plants. A conspectus of the Cape flora of South Africa. Strelitzia 9. National Botanical Institute, Pretoria & Missouri Botanical Garden, Missouri.
Hilliard, O.M. 1977. Compositae in Natal. University of Natal Press, Pietermaritzburg.
iSpot southern Africa: http://www.ispotnature.org/species-dictionaries/sanbi/Ursinia%20nana%20subsp.%20nana?nav=search
Joffe, P.1993. The gardener's guide to South African plants. Tafelberg Publishers, Cape Town.
Le Roux, A. 2005. Namaqualand. South African Wild Flower Guide 1. Botanical Society of South Africa, Cape Town.
Prassler, M. 1967. Revision der Gattung Ursinia. Mitteilungen der Botanischen Staatssammlung München 6: 363–478.
Raimondo, D. et al. 2009. Red list of South African plants. Strelitzia 25. SANBI (South African National Biodiversity Institute), Pretoria.
Stearn, W. 2002. Stearn's dictionary of plant names for gardeners. Timber Press, Portland, Oregon.
Credits
Ramadimetja Junia Maleka
Kirstenbosch National Botanical Garden
June 2017
Plant Attributes:
Plant Type: Bi/Annual
SA Distribution: Eastern Cape, Free State, Gauteng, KwaZulu-Natal, Limpopo, Mpumalanga, North West, Northern Cape, Western Cape
Soil type: Sandy, Loam
Flowering season: Spring
PH: Acid, Neutral
Flower colour: Yellow
Aspect: Full Sun
Gardening skill: Easy
Special Features:
Attracts butterflies
Good potplant
Feeds honeybees
Pioneer plant
Horticultural zones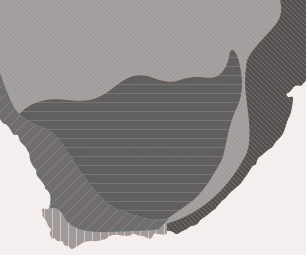 Zone 2 Coastal winter rainfall, frost free
Zone 3 Winter rainfall Karoo, light frost
Zone 4 Summer rainfall Karoo and Highveld, Frost in winter
Google QR Code Generator