Ursinia paleacea (L.) Moench
Family: Asteraceae
Common names: long-stalk parachute daisy (Eng.); geelmagriet (Afr.)
Introduction
This cheerful and resilient perennial is a must for any fynbos garden!
Description
Description
This is an upright, herbaceous shrublet of 400–900 mm tall. The leaves are pinnatisect and vary from 20–60 mm long, with linear to thread-like lobes.
Long, slender flower stalks carry single, yellow flowerheads of 20–50 mm diameter, which are nodding while in bud. The yellow ray florets are dark on the reverse. Flowerheads may sometimes have a greenish ring at the base.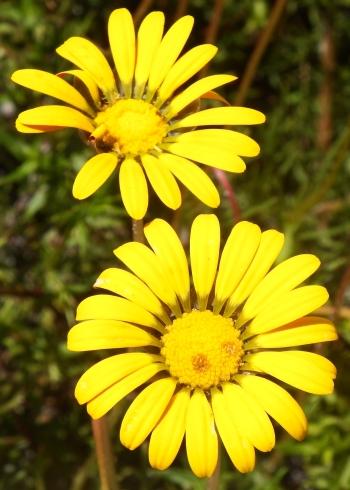 Dark-edged floral bracts are found in as many as 6 or 7 rows. The longest of these is the bract present on the inside, with its pronounced papery scale. The bracts situated on the outer periphery are more linear and green in appearance.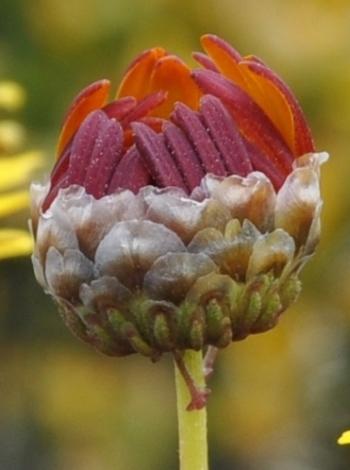 There are 5 pappus scales, in a single whorl (uniseriate) on the fruit.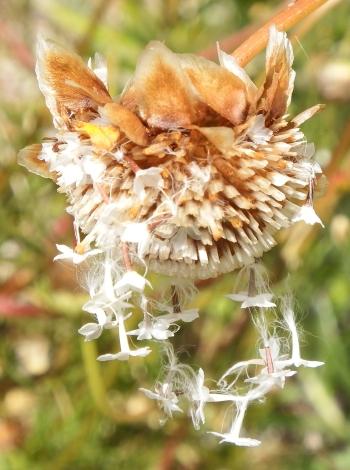 Flowering is in early spring to midsummer (from August to December). Seed can be collected from November.
Conservation Status
Status
Distribution and habitat
Distribution description
This species is a common sight on the damp sandstone mountain slopes, from Tulbagh to the Cape Peninsula in the Western Cape and eastwards from there all the way to Humansdorp in the Eastern Cape. 
Derivation of name and historical aspects
History
The German doctor and botanist, Joseph Gaertner (1732–1791) named this genus after the author of Arboretum bilicum, Johann Heinrich Ursinus of Regensburg (1608–1666). The species names paleacea meaning 'chaff' or 'husk' refers to the chaffy scales present on the receptacles of many members of the Asteraceae family and particularly noticeable on this species.
This genus consists of annuals, perennials and subshrubs of approximately 40 species and is mostly confined to southern Africa, with the exception of 1 species also found in Ethiopia.
Many species now known as Ursinia were previously described as species of Arctotis by Lessing. Several species were also published under Sphenogyne by Robert Brown (1773–1858). Sphenogyne was subsequently sunk into Ursinia by Brown.
Ursinia is easily distinguished by its large showy daisy flowers, a paleate involucre (chaffy bracts that surround the base of a flowerhead), thin margins of the involucral bracts, as well as a fruit crowned by a pappus of large, white, spreading scales. The common name of parachute daisy for this genus is derived from the pappus of spreading scales on the fruits, which resemble a parachute.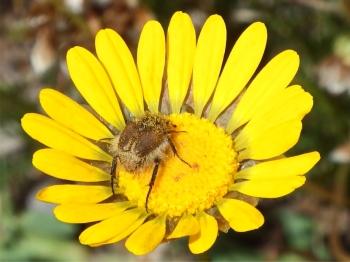 Ecology
Ecology
Several insects, including flies, beetles, bees, wasps and yellow spiders, are attracted to flowers of several species of Ursinia. Photographic evidence suggests that beetles can possibly play a role in the pollination process of Ursinia paleacea.
The light-weight seeds with their parachute of papery scales at the tip, are wind dispersed.
Uses
Use
This species has no known medicinal or cultural uses.
Although not well known in the ornamental horticulture industry, it oozes potential.
Growing Ursinia paleacea
Grow
As with the other herbaceous species of Ursinia, such as U. sericea or U. chrysanthemoides, this daisy can be propagated both from seeds and cuttings. Harvest plant material from healthy, vigorously growing, stock plants in summer, from around November throughout summer. Cuttings must be taken from the current season's growth. Ensure that the material is kept cool and dipped in 10% Kelpak solution to reduce shock. A 50:50 mix of well-composted bark and perlite is used for propagation by cuttings. Place the cuttings tray in a 70–80 % humidity propagation unit, on heated benches with intermittent misting. Humidity can also be achieved by placing a clear plastic cover on the seed tray. Cuttings normally take 3 weeks to root.
When propagating by seed, a mixture of bark and sand is used. Sow the seeds thinly on the medium and lightly cover them with sifted sand or a very fine compost. Place the seed trays in a sunny, well-lit growing area and water when necessary. Too much watering will kill the seeds. Germination can take between 3–4 weeks.
This fine-leaved shrublet makes a wonderful border plant where it contrasts well with coarser-leaved plants, and plants with blue, white or red flowers.
Companion plants for Ursinia paleacea can include: Lampranthus bicolor, Diosma oppositifolia, Pelargonium incarnatum and P. cucullatum, Protea repens, Arctotis angustifolia, Metalasia densa, Lobelia pinifolia, Monopsis lutea, Serruria phylicoides, Spatalla racemosa, Agathosma imbricata and A. capensis, Edmondia pinifolia, Mimetes cucullatus, Leucadendron platyspermum and Restio festuciformis.
There are no known pests for this species.
References
Bean, A. & Johns, A. 2005. Stellenbosch to Hermanus South African wild flower guide 5. Botanical Society of South Africa, Cape Town.
Goldblatt, P. & Manning, J. 2000. Cape Plants. A conspectus of the Cape flora of South Africa. Strelitzia 9. National Botanical Institute, Pretoria & Missouri Botanical Garden, Missouri.
Kesting, K. & Clarke, H. 2014. Botanical names: what they mean. Wild flowers of the Cape Peninsula. Ed. 3, 2nd reprint. Flora Documentation Programme, Muizenberg.
Magee, A., Boatwright, J.S. & Mucina L. 2014. Four new species of Ursinia (Asteraceae, Anthemideae) from South Africa, with an updated key to the genus in Namaqualand. Phytotaxa 177, (3): 137–145.
Notten, A. & Mei, N. 2015-01. Ursinia calenduliflora (DC.) N.E.Br. (Asteraceae). PlantZAfrica. http://pza.sanbi.org/ursinia-calenduliflora
Oliver, R. 2007-11. Ursinia sericea (Thunb.) N.E.Br. (Asteraceae). PlantZAfrica. http://pza.sanbi.org/ursinia-sericea
Stearn, W. 2002. Stearn's dictionary of plant names for gardeners. Timber Press, Portland, Oregon.
Trinder-Smith, T. 2006. Wild flowers of Table Mountain. Botanical Society of South Africa, Cape Town
Swelankamo, N. 2006-12. Ursinia anthemoides (L.)Poir. subsp. anthemoides (Asteraceae). PlantZAfrica. http://pza.sanbi.org/ursinia-anthemoides-subsp-anthemoides
Credits
Roger Oliver & Nomama Mei
Kirstenbosch National Botanical Garden
October 2018
Plant Attributes:
Plant Type: Perennial, Shrub
SA Distribution: Eastern Cape, Western Cape
Soil type: Sandy, Loam
Flowering season: Spring, Winter
PH: Acid, Neutral
Flower colour: Yellow
Aspect: Full Sun
Gardening skill: Easy
Special Features:
Drought resistant
Good potplant
Horticultural zones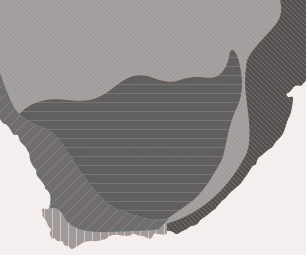 Zone 1 Coastal summer rainfall, frost free
Zone 2 Coastal winter rainfall, frost free
Google QR Code Generator