Veltheimia bracteata Harv. ex Bak.
Family: Hyacinthaceae
Common names: forest lily, forest sand-lily, winter red hot poker (Eng.); sandui, sandlelie (Afr.)
Introduction
Veltheimia bracteata is a beautiful deciduous bulb with a moderate to fast growth rate. The inflorescence is a dense raceme of tubular flowers carried on a long stalk, reaching a height of up to 600 mm.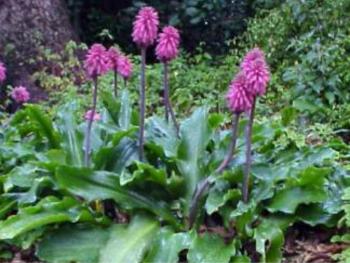 Description
Description
Veltheimia bracteata is a winter-growing deciduous bulbous plant, the leaves dying back in summer, and the new leaves appearing in late-summer to autumn, after a short period of dormancy. In frost-free regions that have rainfall throughout the year, Veltheimia bracteata is almost evergreen. The handsome glossy green, fleshy leaves are broadly strap-shaped with crisped or wavy margins and form an approximately 250 mm high by 350 mm wide rosette at the base of the flower stem.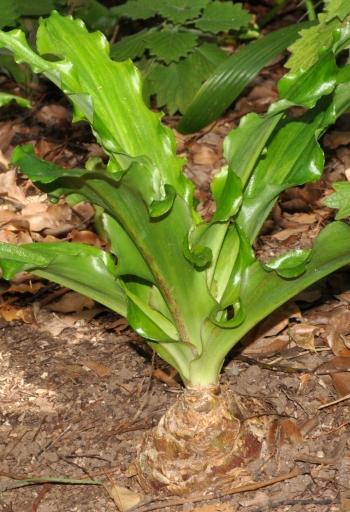 The colour of the flowers is variable, and could be pale pink, dusky-pink, orange-pink or deep rose-pink, and is occasionally greenish-yellow. The flowers are held upright when in tight bud and are pendent when open. The tips of the flowers are sometimes green or spotted with green.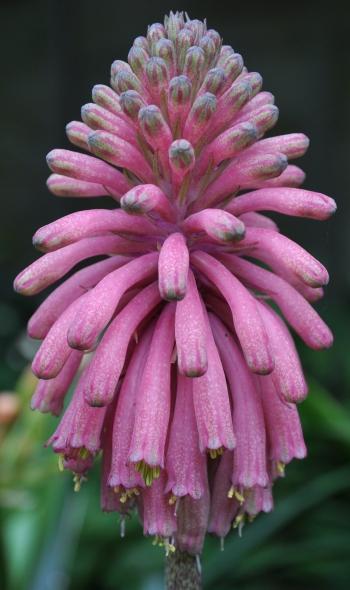 The forest lily flowers during late winter to spring (July to October) and each flowerhead lasts about a month.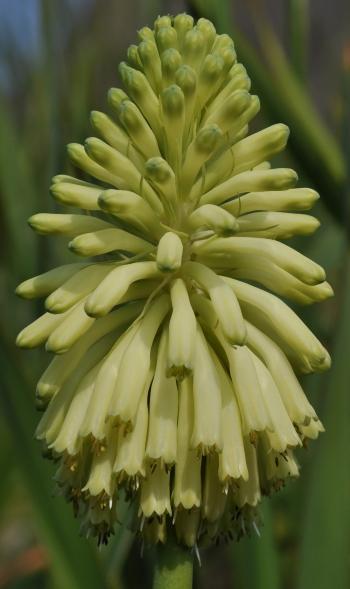 The pear-shaped, ±6 mm long black seeds are produced in large, membranous, inflated capsules which are ready for harvesting when the capsules are dry and papery, usually during mid-summer.
Conservation Status
Status
Least Concern (LC). Veltheimia bracteata is not threatened.
Distribution and habitat
Distribution description
Veltheimia bracteata can be found growing wild in the forests and coastal scrub of the Eastern Cape.
Derivation of name and historical aspects
History
The genus Veltheimia is named in honor of a German patron of botany, August Ferdinand Graf von Veltheim (1741-1801). There are only two species in this genus, the other being Veltheimia capensis, the sandlelie (sand lily) or quarobe. Veltheimia bracteata 'Lemon Flame' is a greenish-yellow flowering form of the species. Two former species, Veltheimia undulata and Veltheimia viridifolia, have been sunk into Veltheimia bracteata and are now synonyms for this species. Similarly, Veltheimia glauca, V. roodeae and V. deasii are synonyms for Veltheimia capensis.
The family Hyacinthaceae was formerly part of the Liliaceae family and is well represented in southern Africa, the Mediterranean region and in south-western Asia. Hyacinthus and Muscari are genera from the Northern Hemisphere. Several other genera, such as Ornithogolum, Scilla, Urginea and Dipcadi havea wide distribution and occur in southern Africa, Europe and Asia. Horticulturally the most important genera from South Africa are Eucomis, Galtonia, Lachenalia, Ornithogalum and Veltheimia. There are also other monotypic genera which occur here, such as Amphisiphon, Daubenya and Whiteheadia.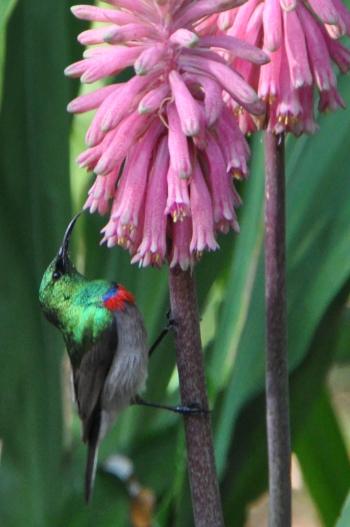 Ecology
Ecology
The flowers are bird-pollinated, and will thus attract birds to the garden.
Uses
Use
There is no reference to Veltheimia bracteata being used medicinally in South Africa, but its close relative Veltheimia capensis, the sandlelie or quarobe, was mentioned in Van der Stel's journal of his Namaqualand trip in 1685 as being used by the inhabitants of the area north of Vanrhynsdorp for its purgative effect.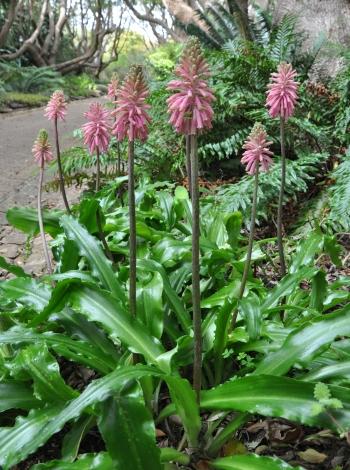 Growing Veltheimia bracteata
Grow
The forest lily is easily cultivated and grows well in semi-shade or shade. The bulb should be planted at or just below ground level, and left undisturbed for many years. It does best in acid to neutral, humus-rich, well-drained loamy soil. A general purpose slow-release granular fertilizer and/or seaweed-derived liquid fertilizer can be used during the growing season. Veltheimia bracteata doesnot tolerate severe frost, but will be unharmed by light frost where it is protected from the early morning sun, by for example overhanging branches.
This plant makes an excellent pot plant for a shady patio, conservatory or a window sill and is suitable for indoor cultivation in bright light but not in direct sun. Use a container that is large enough to accommodate a few season's growth. It is a valuable addition to the shade garden, planted in clumps or en masse under trees, and grows well in conjunction with Clivia species, Asparagus species, Plectranthus species, Streptocarpus species, Scadoxus species, many Crassula species and many ferns.
Propagation is by offsets, leaf cuttings and seed. Offsets should be removed in summer when the foliage has died down and replanted immediately, 30 - 40 mm deep. If grown in a pot the bulbs can belifted every two to three years to remove the offsets from the parent bulb. These new bulbs should flower after one season. The leaves of the plant can also be used to propagate more bulbs. The leaf of a well-established plant can be removed, planted in a sandy soil mix, and bulblets will form at the base of the leaf. Propagation by seed is very successful. The seed should be sown in autumn, thinly to allow the seedlings room to develop, 3 - 4 mm deep, in deep (min.10 cm) trays and kept moist and shaded. A recommended sowing medium is equal parts river sand or industrial sand and fine compost, fine bark or loam. Germination takes two to three weeks and the seedlings should be fed with dilute liquid fertilizer every two weeks after germination. The seedlings generally take three to four years to flower, and can be set out in the garden at the beginning of their third season, during which some may flower for the first time. In vitro propagation of Veltheimia bracteata has also been performed. Leaf and bud explants were taken to initiate bud formation in a tissue culture lab.
The forest lily has no particular pests or diseases, but requires protection from slugs and snails which can cause considerable damage to the leaves, and from caterpillars which may eat the flower buds.
References
Baarnhoorn, F, 1995. Growing Bulbs in Southern Africa, Southern Book Publishes
Bryan, J, 1989. Bulbs Volume II, I-Z, Christopher Helm Publishers
Doutt, R L, 1994. Cape Bulbs, Timber Press
Duncan, G, 1996. Growing South African Bulbous Plants, National Botanical Institute
Joffe, P, 1993. The Gardeners Guide to South African Plants, Tafelberg Publishers
Mathew, B, 1997. Growing Bulbs, B.T. Batsford Publishers
Pienaar, K, 1991. Gardening with Indigenous Plants, Struik Timmins Publishers
Rix, M, 1983. Growing Bulbs, Timber Press
Smith, C.A., 1966, Common Names of South African Plants, Dept. of Agricultural Technical Services, Botanical Survey Memoir No 35, Government Printer.
Credits
Trevor Adams & Alice Notten
Kirstenbosch National Botanical Garden
August 2001
Plant Attributes:
Plant Type: Bulb
SA Distribution: Eastern Cape
Soil type: Loam
Flowering season: Spring, Winter
PH: Acid, Neutral
Flower colour: Green, Pink, Yellow
Aspect: Shade, Morning Sun (Semi Shade), Afternoon Sun (Semi Shade)
Gardening skill: Easy
Special Features:
Attracts birds
Attracts butterflies
Drought resistant
Good potplant
Indoor plant
Horticultural zones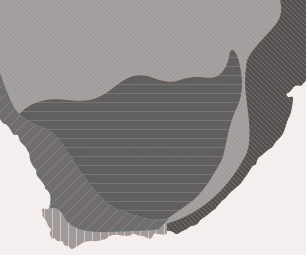 Zone 1 Coastal summer rainfall, frost free
Zone 2 Coastal winter rainfall, frost free
Zone 3 Winter rainfall Karoo, light frost
Google QR Code Generator