Watsonia latifolia N.E.Br. ex Oberm
Family: Iridaceae
Common names: broad-leaved watsonia (Eng.); sidvwa (siSwati)
Introduction
This is an attractive plant with very showy maroon-red flowers that make it stand out on hillsides where it grows amongst rocks.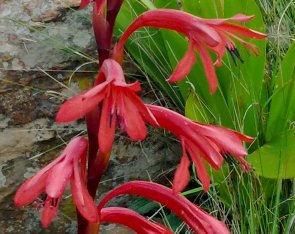 Description
Description
Watsonia latifolia is an erect perennial geophyte that grows up to 1.5 m tall. It has a deep-seated short, solid, vertical underground stem covered with rough fibres, up to 60 mm in diameter.
Leaves 4-6, broad, lanceolate, 30-70 cm long, 4.7 cm wide or more, margins yellow, slightly thickened, midrib well defined in some plants but not well defined in others, arranged like a fan, some basal, those uppermost sheathing the stem, surface flat.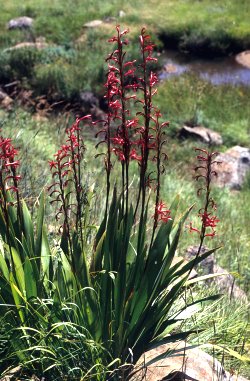 Inflorescence a spike that overtops the leaves, simple, rarely branched, many-flowered; outer bracts about 25 mm long, lower ones clasping the stem; inner bracts slightly smaller. Flowers blood-red, 60-80 mm long, curved; perianth tube with the basal part erect, exserted from the bracts, about 20 mm long, the arched part horizontal, 18-20 mm long, about 8 mm wide (when dried); tepals lanceolate, about 20 mm long, 5-8 mm wide and ascending or spreading. Filaments attached to the tube where it becomes wider, 28-35 mm long, arched below the upper tepal, exserted from the tube; anthers about 10 mm long and violet. Style divided and overtopping the anthers when mature, arching over the filaments. Flowering takes place between December and February.
Capsules oblong-fusiform (spindle-shaped), 14-20 mm long, about as long as the bracts.
Conservation Status
Status
Althoug once listed as Rare, the current status for Watsonia latifolia is Least Concern (Raimondo et al. 2009) because, though localized, it is not exploited commercially in South Africa. It also seems not to have made its way into the muthi trade, but one publication mentions that it is used medicinally.
Distribution and habitat
Distribution description
Watsonia latifolia is restricted to a small area of the summer-rainfall region of southern Africa, in southeastern Mpumalanga and localized in western Swaziland and northern KwaZulu-Natal. It is found usually at high altitudes, above 1 800 m but: SABONET Report No. 41 records altitudes from 641 m up. It occurs in open montane grassland in rocky soil or around the bases of granite outcrops.
Derivation of name and historical aspects
History
The genus Watsonia was named for Sir William Watson, a British scientist who helped introduce the Linnaean system of plant classification to the UK, and latifolia means 'broad-leaved', referring to the unusually broad leaves that are characteristic of this species.
Watsonia is a genus of 52 species restricted to southern Africa, in summer- and winter- rainfall regions, where it has a wide distribution from the mountains and coastal belt of the Western and Eastern Cape to the Drakensberg escarpment of Swaziland, Mpumalanga, KwaZulu-Natal, Free State and Lesotho. It is also found in Northern Cape and Limpopo.
Ecology
Ecology
This species belongs to a group of watsonias in eastern southern Africa that have narrow tubular, cylindrical flowers that produce ample nectar and are believed to be pollinated by nectar-feeding birds or butterflies.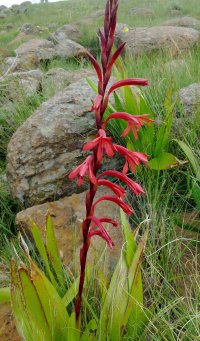 Uses
Use
Watsonia latifolia is only known from very few areas of southern Africa; as a result, it has only two common names and not much is known about its cultural aspects and uses. It is a very attractive plant that can do well in gardens and parks.
Growing Watsonia latifolia
Grow
Watsonia species are generally very easy to grow and to maintain in gardens, and this species is no exception. It can easily be propagated from seed or planted by corms and also transplants well. If planted by corms, they should be planted 40-60 mm deep and watered regularly. It should be planted in full sun, in well drained soil to ensure that the roots are never too wet, approximately four months before flowering time. After sprouting, it should be kept moist.
References
Goldblatt, P. 1989. The genus Watsonia. Annals of Kirstenbosch Botanic Gardens Vol. 19. National Botanic Gardens, Kirstenbosch.
Kirsten, K. (introducer). 2004. Flora, a gardener's encyclopedia. Briza Publications, Pretoria.
Leistner, O.A. (ed.). 2000. Seed plants of southern Africa: families and genera. Strelitzia 10. National Botanical Institute, Pretoria.
Obermeyer, A.A,1962. Iridaceae. Bothalia, Vol.9:pp 115-116
Pienaar, K. 1985. Grow South African plants . Struik, Cape Town..
Pooley, E. 1998. A field guide to wild flowers Kwazulu-Natal and the eastern region. Natal Flora Publications Trust, Durban.
Raimondo, D. et al. 2009. Red list of South African plants. Strelitzia 25. SANBI (South African National Biodiversity Institute), Pretoria.
Credits
Mkhipheni Ngwenya
KwaZulu-Natal Herbarium
September 2012
Plant Attributes:
Plant Type: Bulb
SA Distribution: KwaZulu-Natal, Mpumalanga
Soil type: Sandy
Flowering season: Early Summer, Late Summer
PH: Acid, Neutral
Flower colour: Red
Aspect: Full Sun
Gardening skill: Average
Special Features:
Attracts birds
Attracts butterflies
Good potplant
Horticultural zones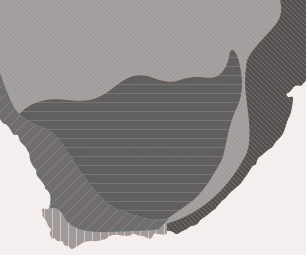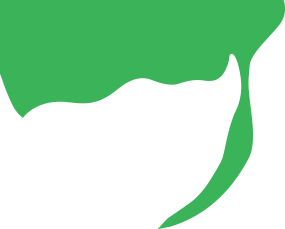 Zone 1 Coastal summer rainfall, frost free
Zone 4 Summer rainfall Karoo and Highveld, Frost in winter
Zone 5 Bushveld summer rainfall, Light frost
Google QR Code Generator