Ziziphus zeyheriana Sond.
Family: Rhamnaceae
Common names: dwarf buffalo-thorn, small buffalo-thorn (Eng.); klein-wag-'n-bietjie, haakdoringbossie, haakdorinkie, haakbessie, toon-wag-'n-bietjie, wag-'n-bietjie, wag-'n-bietjie-doring (Afr.).
Introduction
Ziziphus zeyheriana or, as it is commonly known, dwarf buffalo-thorn, is an inconspicuous, stunted, woody shrub and, just like its relative the tree Ziziphus mucronata (buffalo-thorn), it is very hardy and water-wise.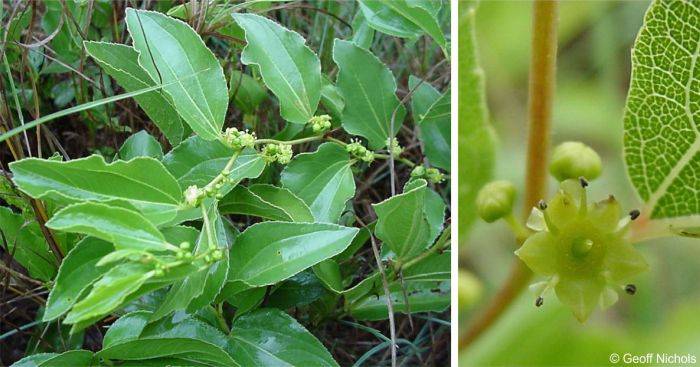 Description
Description
Ziziphus zeyheriana is a small shrub that grows up to 600 mm high, arising from a creeping rhizome. The leaves are simple, alternate, ovate, slightly folded, glossy dark green on the upper surface and pale green below, with 3 prominent basal veins, serrated margins (finely toothed), a rounded base and a pointed apex (tip). Petioles are 1 to 9 mm long, with spine-like stipules at each node, one hooked and the other straight, or both hooked. The inflorescence is up to 5 mm long, covered with short, soft hairs; it has a central stem bearing a single, terminal flower, the other flowers in the cluster developing as terminal buds off lateral stems. The flowers are small, star-like, yellow-green, flowering in early summer (October to January). The calyx has triangular, 2 mm long sepals that are hairy on the outside. The corolla with 2 mm long, hood-like petals. The stamens have filaments up to 2 mm long. The disc is obscurely 5-lobed and 2–5 mm in diameter. The ovary is immersed in the disc, with a 2-locular ovary and a 2-fid style up to 2 mm long. Fruits are 2-seeded, spherical, up to 7 mm in diameter. Seeds are compressed, up to 5 × 5mm.
Conservation Status
Status
Ziziphus zeyheriana has not been selected in any of the four screening criteria for highlighting potential species of conservation concern for detailed assessment and therefore, was given an automated status of Least Concern (LC).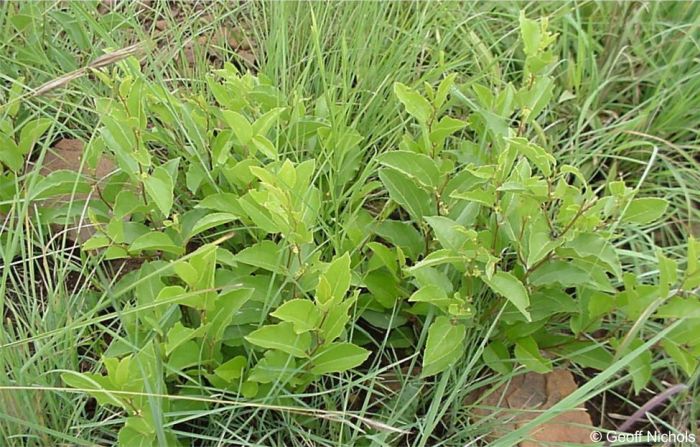 Distribution and habitat
Distribution description
Dwarf buffalo-thorn has a wide distribution on the interior plateau of southern Africa, occurring in Free State, Gauteng, North West, Limpopo and Mpumalanga in South Africa, and further spreads to Zimbabwe, Botswana and Angola. It often occurs on termite mounds, in the grasslands and woodlands. It occurs in different biomes such as the Nama Karoo, where there is frequent drought and rainfall in summer, and the Savanna, where it is very hot in summer and very cold in winter, with frequent frost. Therefore, Ziziphus zeyheriana is frost-tolerant, drought-tolerant and can withstand extreme temperatures.
Derivation of name and historical aspects
History
The name Ziziphus is derived from an Arabic word zizouf, zizyphon in Greek, which is the name for the lotus tree (Ziziphus lotus) and jujube tree (Ziziphus mauritiana). This species is named in honour of Carl Zeyher (1799–1858), who was German naturalist that collected extensively in South Africa particularly in the Cape.
The common name of dwarf buffalo-thorn comes from the fact that it resembles Ziziphus mucronata, which is known as buffalo-thorn, but Z. zeyheriana is a miniature version. The buffalo-thorn family (Rhamnaceae) is a large, cosmopolitan family of mostly trees and shrubs, the consisting of 52 genera and 925 species in the world, with 10 genera and 201 species in southern Africa. Ziziphus is a genus of about 40 species of spiny shrubs and small trees, distributed in the warm-temperate and subtropical regions throughout the world. Well known genera in this family are Berchemia and Phylica and the flagship species is Rhamnus prinoides.
Ecology
Ecology
It is said to be the food plant for the dotted blue butterfly, named Tarucus sybaris, and the yellow flowers yield abundant nectar that attracts bees during the flowering season. Ziziphus zeyheriana is usually found on termite mounds, the dead termites become a bio-fertilizer, which enhances the root growth. The fruits are eaten and the seeds dispersed by birds, aiding population distribution.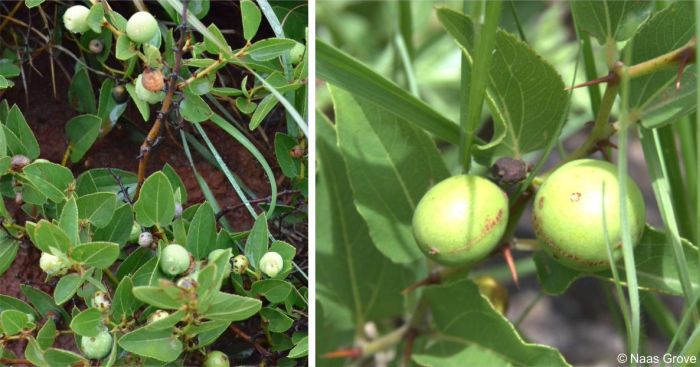 Uses
Use
This shrub can be used in water-wise gardening, with other drought-tolerant plants. It also has value to the gardeners who want to attract birds, butterflies and bees into their gardens. Ziziphus zeyheriana is used for medicinal purposes, the stems are boiled and used to to treat various skin conditions. Domestic livestock, such as goats, feed on the leaves of Z. zeyheriana.
Growing Ziziphus zeyheriana
Grow
Dwarf buffalo-thorn is not so popular in cultivation. However, it holds great potential to become a garden plant, mostly for its foliage. Ziziphus zeyheriana is a slow-growing shrub, however, also very hardy and long lived, as it can with stand very harsh conditions such as extreme heat, low temperatures, frost and drought, making it a great low-maintenance, water-wise garden plant.
Successful propagation can be achieved through seeds (sexual propagation) and cuttings (vegetative propagation). Collect seeds once ripened and sow them fresh, however, first clean the seeds by removing the pulp and soak the nut in hot water for 24 hours to soften the coat. Once the coat is soft remove the seed inside and sow it in any well-drained soil, such as loam or river sand. To achieve this use any seed tray, fill it up with well-drained soil, preferably river sand or loam soil, prepare a by adding a thin layer of coarse bark a the base of the seed tray and add either river sand or loam soil and slightly compact the soil to make it firm. Using a watering can with a solution of a horticultural-approved detergent to eliminate pathogens. Press your seeds slightly below the surface and place them in a well-ventilated area and keep them moist but not wet, water once or twice a week. The seeds should germinate within 3 to 4 weeks.
For vegetative propagation, collect cuttings in the early morning or afternoon, when then the plant is at its full vigour. Prepare cuttings of about 5 to 10 cm long, make the cut below a node and dip the cutting in rooting hormone, preferably hardwood hormone. Insert the cuttings in a mixture of 1 part sifted fine bark, 1 part sifted compost and 2 parts perlite, for sufficient rooting. Keep them in a warm and humid area, with temperatures ranging from 25 to 27℃. Rooting should take place within 2 to 3 weeks.
There are no pests or diseases recorded to attack this species in particular, however there are many pests and pathogens that one should be aware of, such as root rot disease, Polyphagous Shot Hole Borer or any of the other common garden pests, such as aphids, mealy bugs, spider mites etc.
References
African Plant Database. Ziziphus zeyheriana Sond. http://www.ville-ge.ch/musinfo/bd/cjb/africa/details.php?langue=an&id=83597. Accessed on 12/04/2021.
Biodiversity Explorer. Ziziphus zeyheriana. https://www.biodiversityexplorer.info/plants/rhamnaceae/ziziphus_zeyheriana.htm. Accessed on 12/04/2021.
Daemane, M.E., Cilliers, S.S. & Bezuidenhout, H. 2010. An ecological study of the plant communities in the proposed Highveld National Park, in the peri-urban area of Potchefstroom, South Africa. Koedoe 52 (1).
Foden, W. & Potter, L. 2005. Ziziphus zeyheriana Sond. National Assessment: Red List of South African Plants version 2020.1. Accessed on 12/04/2021.
Hyde, M.A., Wursten, B.T., Ballings, P. & Coates Palgrave, M. 2021. Flora of Zimbabwe: Ziziphus zeyheriana Sond. https://www.zimbabweflora.co.zw/speciesdata/species.php?species_id=137690. Accessed 12/04/2021.
Koekemoer, M., Steyn, H.M. & Bester, S.P. 2015. Guide to Plant Families of southern Africa. Strelitzia 31. 2nd ed., 2nd print. South African National Biodiversity Institute, Pretoria, South Africa.
Latti, I. n.d. Operation wildflower: Ziziphus zeyheriana Sond. Online. https://www.operationwildflower.org.za/index.php/albums/genera-q-z/ziziphus/ziziphus-zeyheriana-il-7-5404. Accessed 12/04/2021.
Manning, J. 2009. Field guide to wild flowers of South Africa. Struik Nature, Cape Town.
Mazibuko, N. 2007. Ziziphus mucronata Willd. subsp. mucronata (Rhamnaceae). PlantZAfrica. Online. http://pza.sanbi.org/ziziphus-mucronata.
Plants of the World Online. Ziziphus zeyheriana Sond. http://www.plantsoftheworldonline.org/taxon/urn:lsid:ipni.org:names:719454-1. Accessed 12/04/2021.
Silverhill Seeds and Books. Ziziphus zeyheriana. https://silverhillseeds.co.za/product/rhamnaceae-ziziphus-zeyheriana/?v=68caa8201064. Accessed 12/04/2021.
Velembo, S. 2019. Ziziphus rivularis Codd (Rhamnaceae). PlantZAfrica. Online. http://pza.sanbi.org/ziziphus-rivularis.
Credits
Thamsanqa Msweli and Mpendulo Gabayi
Kirstenbosch National Botanical Garden
July 2021
Acknowledgements: The authors thank Naas Grove and Geoff Nichols for providing the images for this article.
Plant Attributes:
Plant Type: Shrub
SA Distribution: Free State, Gauteng, Limpopo, Mpumalanga, North West
Soil type: Sandy, Loam
Flowering season: Spring, Early Summer
PH: Acid, Neutral
Flower colour: Green, Yellow
Aspect: Full Sun
Gardening skill: Easy
Special Features:
Attracts birds
Attracts butterflies
Drought resistant
Medical plant
Useful plant
Feeds honeybees
Horticultural zones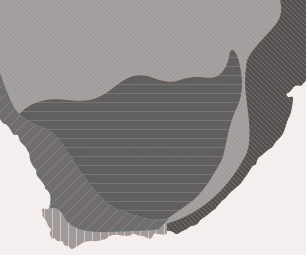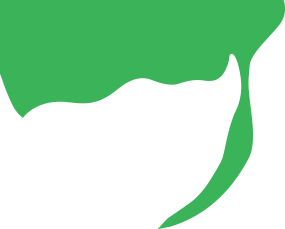 Zone 1 Coastal summer rainfall, frost free
Zone 4 Summer rainfall Karoo and Highveld, Frost in winter
Zone 5 Bushveld summer rainfall, Light frost
Google QR Code Generator