Pentzia incana (Thunb.) Kuntze
Family: Asteraceae
Common names: anchor karoo bush, common karoo bush, good karoo, sheep karoo, sheep bush, sweet karoo (Eng.); alsbossie, alsbos, ankerkaroo, bewerasie, gansie, gansogiebos, goedkaroo, goeie-karoo, grootkaroo, karoobos, karoobossie, karoo, kleingansie, kortbeenkaroo, skaapbos, skaapbossie, skaapkaroo, soetkaroo, vaalkaroo, vleikaroo, witkaroobos (Afr.); mohantsoana (SS)
Introduction
An aromatic and easy-growing perennial suited for the water-wise garden. This grey leaved species is covered in small yellow flowers for about six months of the year. It is also a good fodder plant, can be used to control erosion and to treat colds, flu and stomach aches.
Description
Description
An aromatic, densely-branched shrublet reaching between 300 and 600 mm in height. The small, lobed, pinnately compound leaves are 2-6 mm long and arranged spirally on the stem. They are greyish green and covered in white hairs. Flowerheads are yellow, 6-10 mm in diameter, discoid (made up of central disc-florets and lacking ray florets) and are borne singly on the tips of the twigs. The involucral bracts are in four rows, with membranous margins. Flowering is mainly in winter (June), but sporadic from autumn to spring (April to September). Seeds mature towards the end of September. The seeds are greyish-white cypselae, approximately 3 mm long and 1 mm in diameter.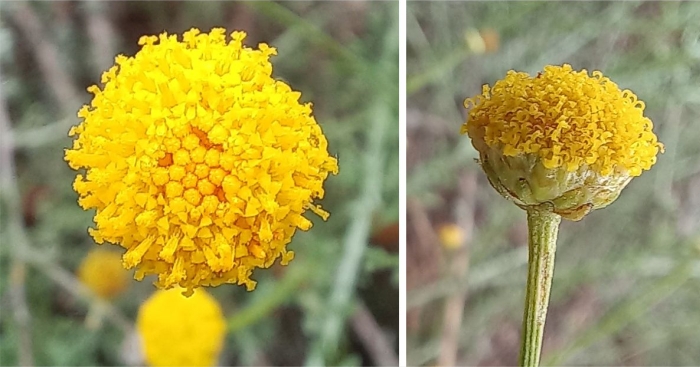 Conservation Status
Status
Distribution and habitat
Distribution description
This species is widespread throughout South Africa, Botswana and Namibia. In South Africa it is found in different biomes and vegetation-types which include Succulent Karoo, Nama Karoo, Fynbos and Renosterveld. The preferred habitats of Pentzia incana are loamy or sandy ridges and plains within arid and semi-arid areas between 900-1 700 m above sea level. In these areas it can tolerate annual rainfall of about than 200 mm. The average minimum and maximum temperatures are 7.9°C and 26.5°C respectively. This is a frost-tolerant species.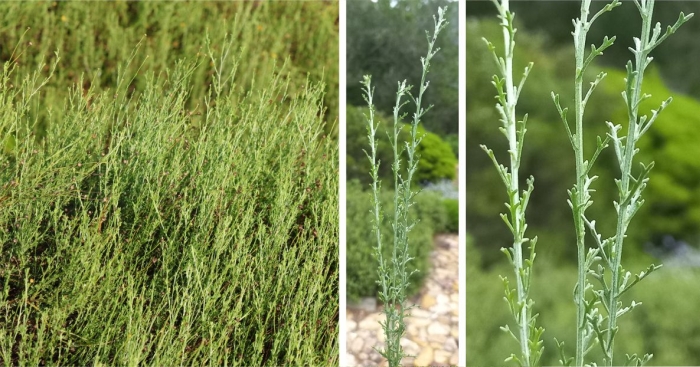 Derivation of name and historical aspects
History
Carolus Johannes Pentz, 18th century taxonomist student under Carl Thunberg, is one taxonomist to which the name of this genus can be linked. However, there is also the possibility that it was named for Hendrik Christian Pentz (1738-1803), a Swedish plant collector. These three scientists were contemporaries during the 1800s. The species name incana is Latin for 'grey' and describes the leaf colour.
The genus Pentzia forms part of the Asteraceae, which represents the largest plant family in southern Africa with approximately 2 500 species. Pentzia, with several other well-known genera including Ursinia, Cotula, Ericephalus, Artemisia and Athanasia, falls under the Tribe Anthemideae. There are 1 800 species in this tribe with 313 confined to southern Africa. There are approximately 23 formally described species of Pentzia.
Pentzia incana was introduced to several countries, including Australia and the United States of America. In the case of the latter, importation was done through the US Soil Conservation Service most likely on account of the soil-binding qualities of the species.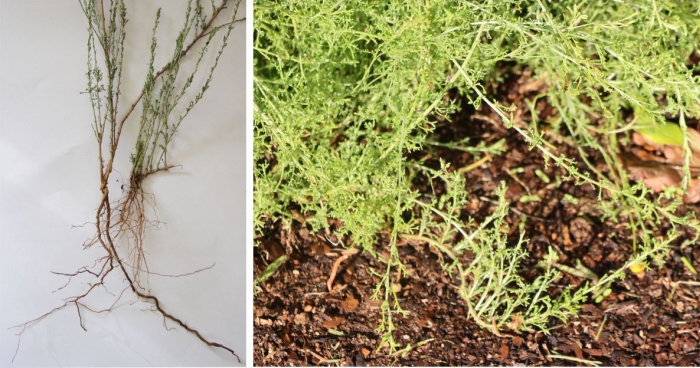 Ecology
Ecology
This plant has ecological significance. Its stoloniferous habit prevents soil erosion, which explains its Afrikaans vernacular name ankerkaroo (meaning anchor karoo). When its branches touch the ground, they root and form new plants.
Pentzia incana is also a species that is valuable to wildlife, birds, livestock, butterflies, bees and other insects. Butterflies and bees visit and pollinate its showy yellow flowers. Sunbirds and/or rodents also visit it in search of food and nectar. Livestock and other herbivores graze on this plant. As a fodder plant it has been observed that some populations are more palatable than others.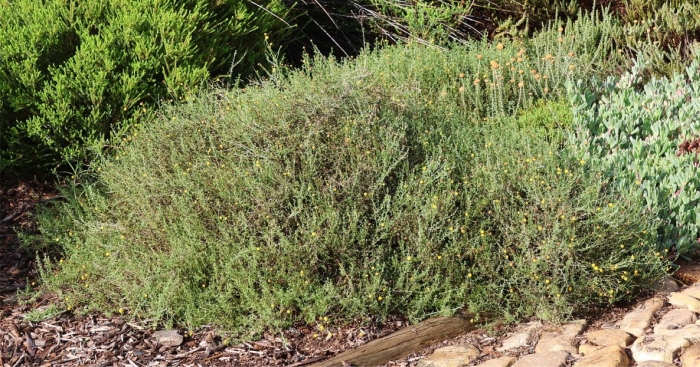 Uses
Use
Pentzia incana is regarded as an important plant among pasture plants in South Africa's dry interior (the Karoo). The leaves have a pungent and pleasantly herbal flavour when bruised. This aromatic flavour is believed to be responsible for giving Karoo lamb its very distinctive taste.
This species has a very unique shallow root-system. The ability of plants to anchor themselves and to form new plants using its own root system, results in the formation of a dense root mass which binds the soil. This reduces erosion. It is particularly effective in the restoration of disturbed areas with clay properties.  
When chewed, leaf twigs are used medicinally to treat stomach aches, and ethnobotanical field studies revealed that Pentzia incana has a medicinal value when chewed in-situ. The fibres are said to be spat out, and the secreted juice is swallowed to treat a variety of ailments such as respiratory conditions, colds and flu.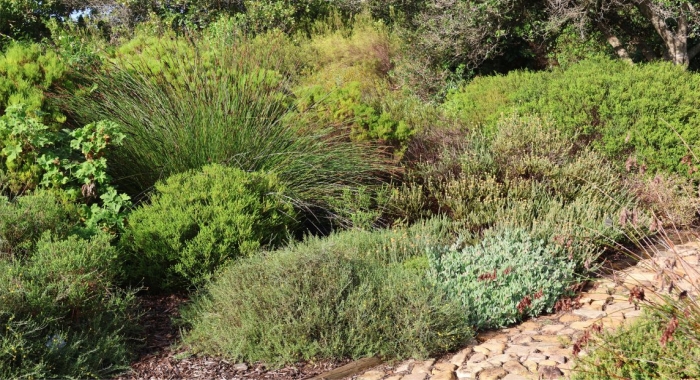 Growing Pentzia incana
Grow
Pentzia incana can be propagated vegetatively by taking heel and stem cuttings from slightly hardened new growth. A rooting hormone suitable for semi-hardwood cuttings can be used. Cuttings are placed in a well-drained propagation medium, such as river sand or fine-milled bark. Place cuttings in a propagation house with adequate lighting, good airflow, humidity and bottom heating to achieve a high rooting percentage. Cuttings must be checked on a regular basis because too much watering can cause this arid species to rot.
In a study conducted to observe the root systems of Pentzia incana, the species was described to have an extensive root system as it is stoloniferous. Stolons root easily when touching the ground under favourable conditions and can be used as a propagation method.
Seeds can be sown in autumn using a well-drained potting medium. Germinated seedlings must be monitored until they are large enough to be transplanted into containers of suitable size relative to the young plant.
This is a fast-growing, water-wise plant that can be enhanced with proper pruning when necessary. It is a good groundcover or filler in the garden and shows potential as a small hedge.
Plants growing in full sun conditions have been observed to be pest-free, while those subjected to semi-shade conditions during the afternoon are at times covered with aphids.
There are several species which share a habitat with the Anchor Karoo and make good companion plants in the garden, this may include: Aloe arborescens and A. ferox, Crassula perforata, Carpobrotus acinaciformis, Curio crassulifolius, Carissa bispinosa subsp. bispinosa, Dicerothamnus rhinocerotis, Eriocephalus africanus var. africanus, Plecostachys serpyllifolia, Chrysocoma ciliata and C. coma-aurea, Felicia filifolia subsp. filifolia and F. flanaganii, Freylinia undulata, Helichrysum cymosum, Dodonaea viscosa var. angustifolia, Euclea undulata, Pelargonium abrotanifolium, Pteronia incana, Seriphium plumosum, Arctotheca calendula, Cotula nudicaulis, Leysera tenella, Nemesia cheiranthus, Senecio arenarius, Agathosma apiculata and Oscularia vredenburgensis.
References
Heuzé, V., Tran, G., Hassoun, P. & Lebas, F. 2021. African sheepbush (Pentzia incana). Feedipedia, a programme by INRAE, CIRAD, AFZ and FAO. Online. https://www.feedipedia.org./node/118. Accessed 6/04/23.
Hulley, I.M. et al. 2018. Essential oil composition of Pentzia incana (Asteraceae), an important natural pasture plant in the Karoo region of South Africa. African Journal of Range & Forage Science 35(2): 137-145.
Koekemoer, M., Steyn, H.M. & Bester, S.P. 2015. Guide to Plant Families of southern Africa. Strelitzia 31. 2nd ed., 2nd print. South African National Biodiversity Institute, Pretoria, South Africa.
Le Roux, A. & Schelpe, T. 1997. Namaqualand. South African Flowering Guide 1. Botanical Society of South Africa, Cape Town.
Magee, A.R. & Tilney, P.M. 2011. A taxonomic revision of Pentzia (Asteraceae, Anthemideae). South African Journal of Botany 79(2012): 148-158.
Manning, J. & Goldblatt, P. 2012. Plants of the Greater Cape Floristic Region 1: the Core Cape Flora. Strelitzia 29. South African National Biodiversity Institute, Pretoria.
McQuillan, M. 2016. Pentzia dentata (L) Kuntze (Asteraceae). PlantZAfrica. Online. http://pza.sanbi.org./pentzia-dentata.
Powrie, L. 2004. Common names of Karoo plants. Strelitzia 16. National Botanical Institute, Pretoria.
Rebelo, A.G., Boucher, C., Helme, N., Mucina, L. & Rutherford, M.C. 2006. Fynbos Biome. In: Mucina, L. & Rutherford, M.C. (eds.), The vegetation of South Africa, Lesotho and Swaziland. Strelitzia 19. SANBI, Pretoria.
Renu-Karoo, Pentzia incana. https://renu-karoo.co.za/wp-content/uploads/2023/03/Pentzia-incana.pdf. Accessed 6/04/23.
Scott, J.D. & Breda, N.G. 1938. Preliminary studies on the root systems of Pentzia incana-forma on the Worcester Veld Reserve. South African Journal of Science 35: 280-287.
Stearn, W. 2002. Stearn's dictionary of plant names for gardeners. Timber Press, Portland, Oregon.
Trinder-Smith, T.H. 2003. The Levyns Guide to the plant genera of the south western Cape. Bolus Herbarium, UCT, Red Roof Design CC, Cape Town
Van Breda, P.A.B. & Barnard, S.A. 1991. 100 Veld plants of the winter-rainfall region: a guide to the use of veld plants for grazing. Bulletin no. 422. Dept. of Agriculture Development, Cape & Transvaal Printers for the Government Printer, Pretoria.
Vlok, J. & Schutte-Vlok, A-L. 2015. Plants of the Klein Karoo. Umdaus Press, Hatfield.
Von Staden, L. 2012. Pentzia incana (Thunb.) Kuntze. National Assessment: Red List of South African Plants version 2020.1. Accessed on 2023/04/06.
Wikipedia, Pentzia incana. https://en.wikipedia.org./wiki/Pentzia_incana. Accessed 15 March 2023.
Credits
Roger Oliver & Nosipho Ndlovu
Kirstenbosch National Botanical Garden
May 2023
Plant Attributes:
Plant Type: Ground Cover, Shrub
SA Distribution: Eastern Cape, Free State, Gauteng, North West, Northern Cape, Western Cape
Soil type: Sandy, Clay, Loam
Flowering season: Spring, Autumn, Winter, Sporadic/All year
PH: Acid, Neutral
Flower colour: Yellow
Aspect: Full Sun
Gardening skill: Easy
Special Features:

Attracts butterflies

Drought resistant

Fragrant

Medical plant

Useful plant

Feeds honeybees

Pioneer plant
Horticultural zones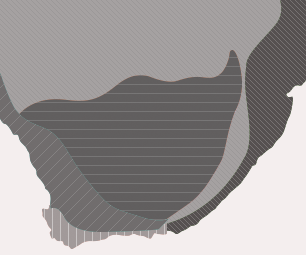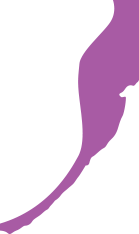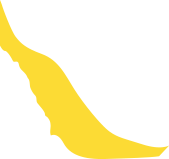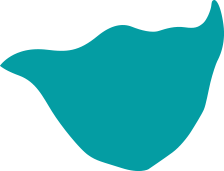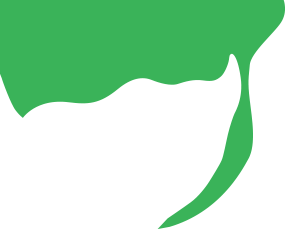 Zone 1 Coastal summer rainfall, frost free
Zone 2 Coastal winter rainfall, frost free
Zone 3 Winter rainfall Karoo, light frost
Zone 4 Summer rainfall Karoo and Highveld, Frost in winter
Zone 5 Bushveld summer rainfall, Light frost
Google QR Code Generator