Browse through all previous entries of Plants Of The Week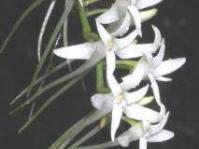 Common names:
iphamba (Zulu)
This delicate epiphytic orchid, a mini plant with maxi roots is covered in a mass of white flowers at the beginning of summer....
02 / 12 / 2002 | B Tarr | KwaZulu-Natal NBG
Read More
Common names:
kooboo-berry, spoonwood (Eng.); koeboebessie, lepelboom, lepelhout (Afr.); umbomvane, umgxube, umnqayi (Xhosa); monamane (Northern Sotho); mukwatikwat
Mystroxylon aethiopicum is an attractive evergreen tree that is useful as an ornamental garden tree, planted as a hedge, in groups or solitary and...
10 / 10 / 2005 | Mhlonishwa D Dlamini | Walter Sisulu NBG
Read More